Cat Berman, CNote's CEO, was invited to speak at the Women in In Tech symposium at UC Santa Cruz's Silicon Valley Campus.
The purpose of this event is to: "highlight the experience of women in the tech industry—from established companies to startups and the venture capital firms that support them," and to "recognize those who have championed the advancement of women in technology through the WITI@UC Athena Awards." The event also did a great job of assuring that attendees left "with actionable suggestions for overcoming gender-based challenges and improving the workplace climate for all."
Indeed, the panel Cat participated in: Making Strides, which "Highlights successes that have contributed to positive momentum for women in technology startup companies and venture firms," did a great job of providing actionable insight from women who had reached the top levels of accomplishment in their respective industries.
The speakers didn't spend any time patting themselves on the back. Instead, they focused on what challenges they faced in their respective industries, how they got around those barriers to achieve success, and advice they have for young women looking to do the same.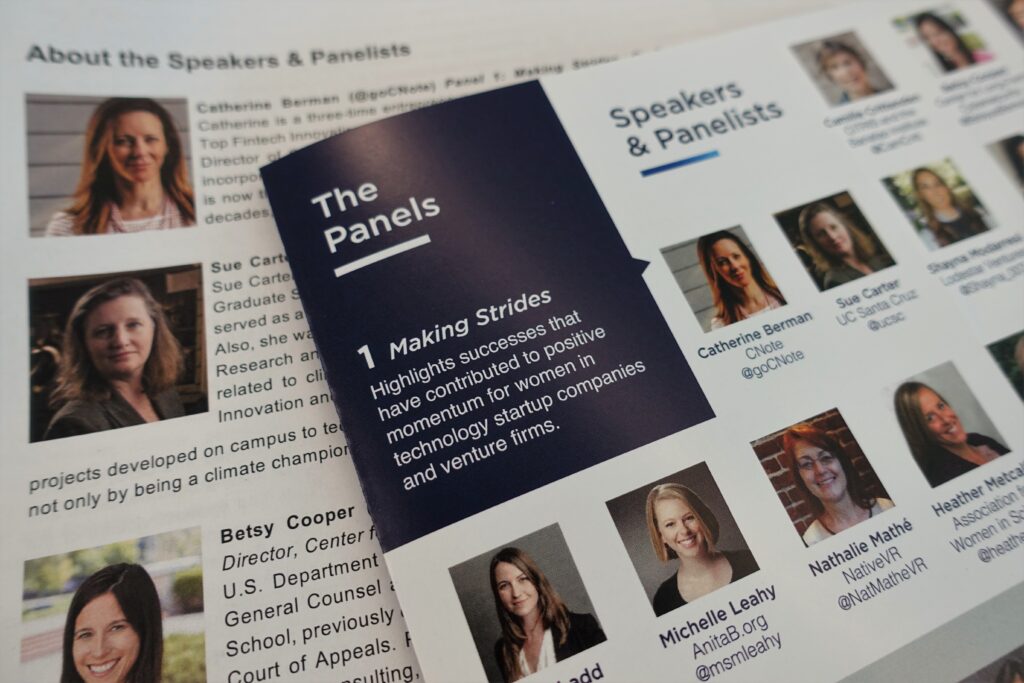 It was a truly impressive panel, including: Moderator Caroline Winnett, Executive Director of Berkeley's SkyDeck; Sue Carter, a leading physics professor; Laura Teclemariam a product lead at EA; Sophia Velastegui, a tech executive at Apple; and our very own Cat Berman.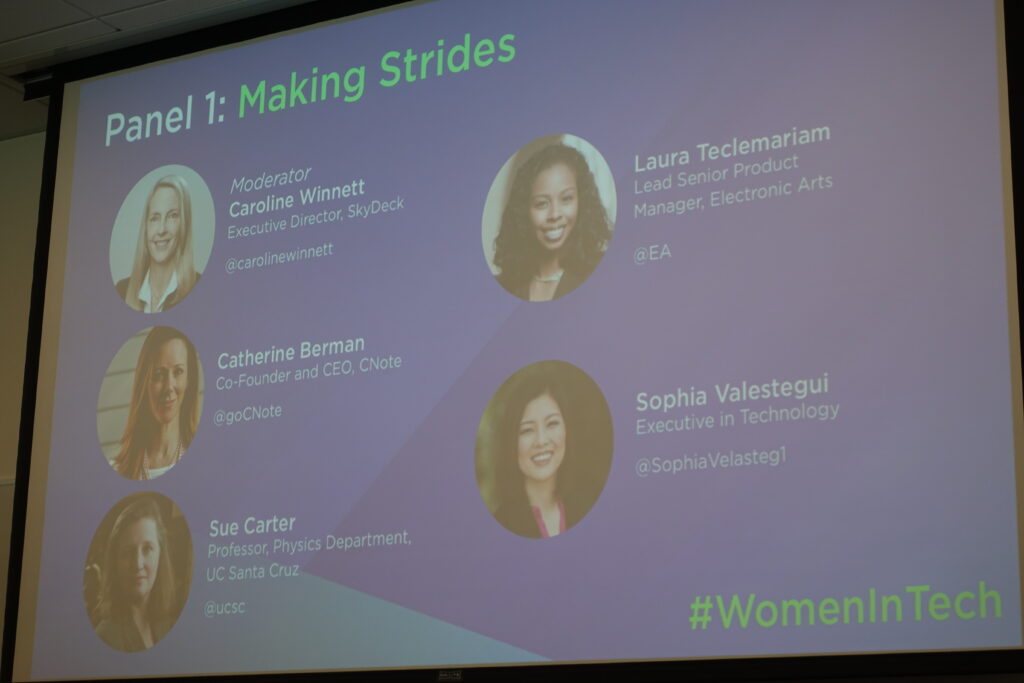 We won't pretend to do this talk justice in the form of a blog post, but we thought we'd share a few of the larger takeaways from the discussion that might be valuable to young women interested in pursuing careers in tech and entrepreneurship.
VC Funding & Internal Funding
Cat and the group discussed the challenges related to venture capital funding and discussed the importance of this recent piece published by HBR which explores the different ways questions are framed to female and male founders. Awareness of these industry trends, and potential forms of bias can help women more effectively navigate the VC funding process. We explored many of these funding issues in our post about driving equality in women-run business financing.
The group then talked further about question framing in the VC world, and the hard work you must do to make sure that challenging questions posed to you about your ideas do not prevent you from being a strong advocate. You cannot shut down, you need to flip the message and prevent it from dissuading you from providing a powerful substantive response.
These issues are not limited to VC funding, Laura talked about the challenges she faced trying to get internal funding for female-focused projects within companies she has worked at as well. The panel also discussed fighting the imposter syndrome, and how to be an advocate for yourself and your business.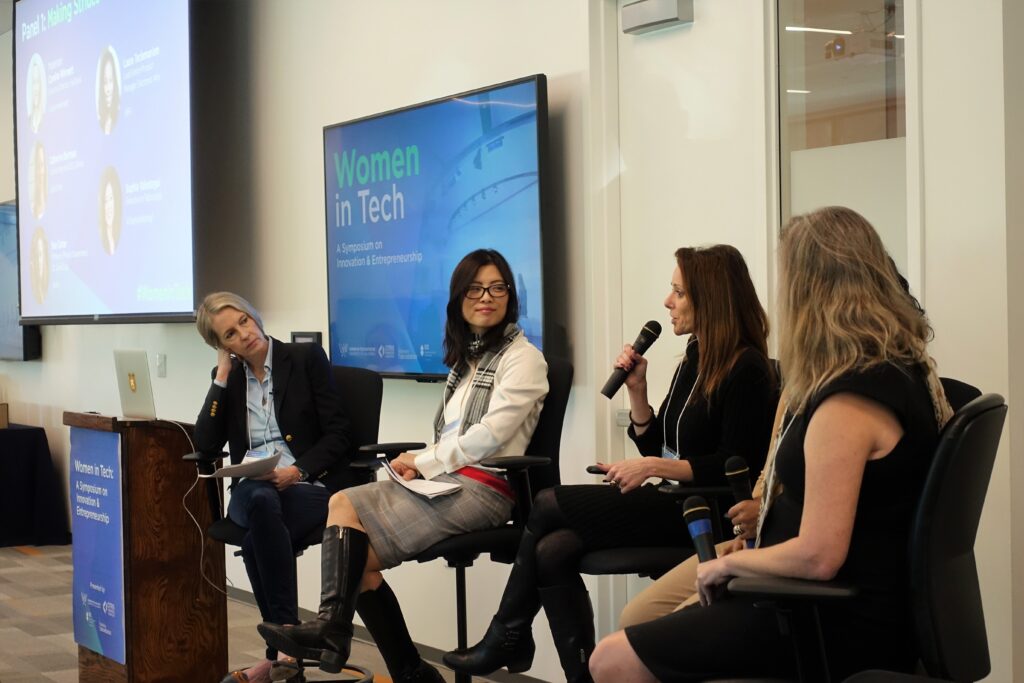 Treating yourself like a business
Sophia shared some great insight about how, from a professional perspective, she "considers herself a company." That sort of thinking means that she tries to remain outcome focused when making career decisions. Most importantly, it means that she keeps a large group of advisors available to counsel her when she is faced with an important professional decision.
She recommended that everyone keep a personal board of directors (here's a HBR piece that fleshes that idea out). Your personal board of directors is a group of 10-12 people that you trust to give you bulletproof advice on topics they have expertise in. You can go to them when you are faced with a big life decision. Their objectivity and expertise will help you make the best decision possible. She also said she tries to reach out to experts in a specific field when she needs discrete advice on a certain topic. She said she looks at her entire LinkedIn network as a resource for expert opinions. Great advice!
Finding a common ground
Laura discussed the fact that in many instances a woman may not have the benefit of the doubt going into a presentation, pitch, or interview. One of her strategies for overcoming this bias was to work to build a common ground with whomever you are meeting with.
If they can relate to you, have some level of connection with you, or trust you they will be much more likely to internalize and evaluate your idea/pitch on its merits. This takes skill and practice, but finding a common ground is a powerful tool to equalize social interactions. Focus on building intimate human connections that prevent simple appearances or quick judgments from coloring decisions.
Taking Advantage of Opportunities and Asking for Help
Cat and the panel also discussed the importance of saying "yes" to opportunities the world presents you. Many times one can be overcome with doubt that prevents action, but saying yes to opportunities can build momentum begets more opportunities, personal growth, and chances for personal achievements and success.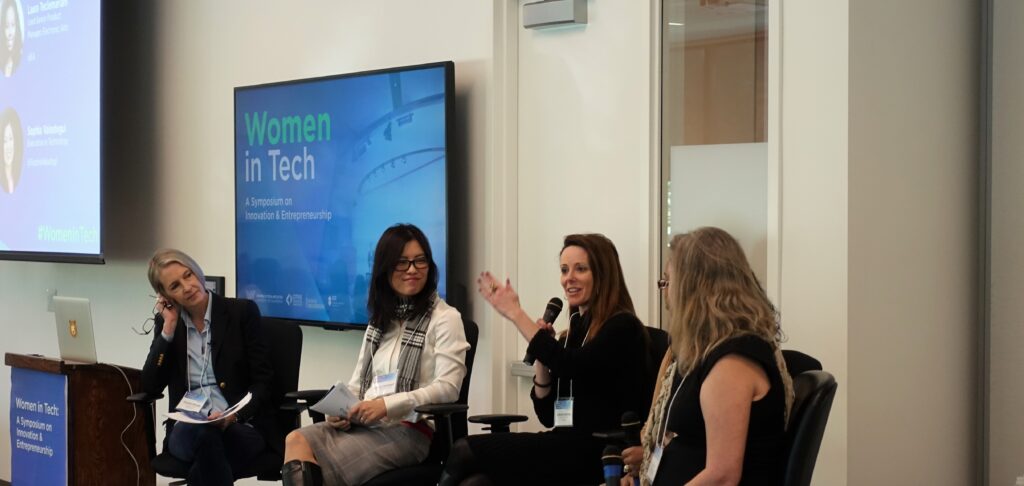 The panel also expressed the importance of asking for help and seeking out mentorship. Much like Sophia's point about finding a personal board of directors, the panel agreed that their success was dependent on help from mentors and advice successful women earlier in their careers.
Cat had some great tips for finding and building relationships with potential mentors:
Don't ask for the moon right way. Asking someone to be your mentor is a big ask. Build a relationship first.
Start with a small ask like coffee.
Meet somewhere convenient for your mentor, or somewhere they really like but haven't been to in months.
Express genuine gratitude for their time and share the impact they have had on your life.
Give back yourself.
Conclusion
One of the most promising moments of the event was when a student stood up and said she hadn't felt like she had been subject to bias in the tech industry as a result of being a woman, but asked for suggestions for navigating such a scenario should it arise. The panel responded by wishing she never would have to deal with such a situation, but gave some great advice about navigating such an event, should it arise. Its evident that we've come a long way, but the past experience of the panelists was a reminder we've still got a long way to go.
This event was presented by the Women in Technology Initiative at the University of California, CITRIS and the Banatao Institute, UC Berkeley College of Engineering, and the Center for Long-term Cybersecurity.