When we launched the Wisdom Fund in 2019 as an investment vehicle that increases capital, access, and lending for businesses owned by women of color, no one was anticipating 2020, with its pandemic, political divisions, and socio-racial upheaval. Among 2020's most poignant lessons, however, was one that inspired the fund: women of color don't have equal access to opportunity in this country. That's why the work we're doing with the Wisdom Fund today is arguably more necessary than it was when we launched it two years ago. Therefore, in the spirit of Black History Month, not to mention Women's History Month in March, we'd like to provide an update on the Wisdom Fund, including sharing the progress we've made, the lessons we've learned, and the work that remains.
A First-of-its-Kind Fund
If you're unfamiliar with the Wisdom Fund, it's an impact investing opportunity that we created in partnership with CDC Small Business Finance and four Community Development Financial Institutions (CDFIs) in 2019 to funnel money from accredited investors — institutions, funds, foundations, family offices, and individuals — into business loans for low-to-moderate-income women, especially women of color. While we knew that women are the fastest-growing group of entrepreneurs in the country, we also knew that women of color don't have the same access, privilege, and opportunity as their white counterparts. Therefore, we wanted to create an innovative investment opportunity to address these disparities, fix these social injustices, and provide women of color with more access to capital and small business coaching.
Early Results
Through Q3 2020, The Wisdom Fund initiative has deployed 100% of capital to small businesses led by women of color. This lending activity has gone on to create or maintain over 225 jobs in communities across America. Further, the average loan size for program participants was right around $47,000. We're excited to share these early results but have aspirations for the program, both around growing the amount of investor capital that's committed to these under-funded borrowers and around the coaching services and changes, we hope to champion around the lending process for women of color entrepreneurs.
Providing more than capital: Funding Change
A key component of this initiative from the very beginning was to learn how we, as the financial services industry, can improve the lending process for women of color. For us, that meant taking a holistic approach to better understand how women of color are being treated, assessed, and evaluated from a risk perspective as it relates to lending.
The Data Speak for Themselves — So Do Women
Thanks to our partners at ICA, an Oakland-based CDFI that invests in high-potential businesses, we've been able to do a historic, 10-year look back at women of color borrowers' experience with lending. ICA's preliminary analysis produced three key findings. First, women of color were not riskier borrowers than other demographics. ICA's analysis shows that there was no statistically significant difference between the credit risk1 among women of color and other groups of borrowers. Second, women were, on average, a lower credit risk than men: ICA found that the probability of defaulting on loans was between 2 to 4.5 percentage points lower for women than men. Lastly, despite those other two findings, our analysis also shows that women of color typically receive lower loan amounts than other borrowing groups, but are sometimes charged higher interest rates.
As we conduct additional research we hope to isolate causes for these disparate outcomes and work with our partners to change the lending process to address them. To that end, The ICA team is working to expand on the research and looking for additional CDFI partners to join the initiative by sharing lending data. They are hosting a webinar on February 18th for those interested in partnering with them.

These preliminary findings are demonstrative of a foundational goal of the Wisdom Fund: to collect borrower data on demographics, business characteristics, loan terms, performance metrics, default rates, missed payments, and more. Given that our CDFI partners, unlike traditional financial institutions, can collect this kind of lending data, we stand to build a unique data set based on historical performance that stands to inform mainstream lenders, shape the future of our industry, and create more opportunities to support women of color.2
Whereas we anticipate the data being able to speak for themselves, part of what we want to do going forward is to similarly give women of color borrowers the chance to speak for themselves: to share their stories, challenges, and successes. We can't and don't assume that we knew how women of color borrowers feel about the life cycles of their loans. Therefore, over the next five months, we're taking a human-centered design (HCD) approach to better understand the human side of the data we're collecting.
To do this, we've partnered with Impact Experience, an organization that works with businesses to help generate trust, think about strategic initiatives, and dive deep into biases and structural racism in the financial services space. Impact Experience is taking the lead on surveying between 50 and 60 women of color borrowers, half of whom are Wisdom Fund borrowers, to gain insights into the various ways that lenders can better serve them. Additionally, Impact Experience will survey 20 CDFIs to better understand the challenges that community lenders face when women of color come to them for lending. 
After Impact Experience completes its surveys, we'll invite roughly 30 participants — including women of color borrowers and lenders — to a two-day, virtual experience where we'll collectively take a deeper dive into the core challenges and opportunities around unlocking more capital for women of color. This will be a chance for these women to share their first-hand stories with us, including the good, the bad, and the ugly of our current lending practices. By the end of this virtual gathering, we want to not only identify the mechanisms for removing barriers for women of color to acquire loans but also create broader networks for these women so that they can grow both their wealth and their businesses. 
From start to finish, we anticipate this being a five-month process, and the final phase will include a report out of stories, insights, and solutions that we'll share broadly with our peers across the financial services sector so that we can collectively create systemic change and unlock lending opportunities for women of color.
We know that change won't happen overnight, but we also know that change won't happen by itself. Therefore, as we continue to channel impact investment dollars into women of color-owned businesses through the Wisdom Fund, we, along with our partners, are equally committed to giving those same women the opportunity to have their voices heard and to share their struggles, successes, and ideas with us. After all, if we're going to drive wealth creation for women of color in the United States, then we need to emphasize listening to, collaborating with, and learning from these same women of color borrowers as much as we can.
—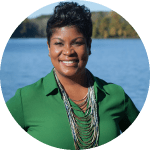 This piece was authored by Danielle M. Burns, MBA, AIF®, VP of Business Development at CNote. She is also an internal champion of the Wisdom Fund and is leading the human-centered design work on this project.