When most people think about social justice, they don't think about circus arts; however, for John Highkin, social change is at the center of his community arts nonprofit, Fern Street Circus. John grew up in Los Angeles and became a musician before moving to England to get a master's degree in English. In 1987, while in Europe, John had the opportunity to spend a few months at the world-famous Berliner Ensemble in East Berlin, where he became fascinated with both political and physical theater. By chance, when he returned to Southern California to intern at The Old Globe Theatre in Balboa Park, Cirque du Soleil happened to be in San Diego for a month during its first U.S. tour. "I looked at them," he said, "and I thought I was seeing what circus could be. I really dreamed about being able to have my own circus one day."
Following that dream, John went on the road as a production manager with a single-ring circus in St. Louis called Circus Flora. Although that led to other jobs with different shows in different states, including the bus-&-truck tour of The Soviet Acrobatic Revue, John always wanted to return to San Diego to start something of his own. In 1990, he learned about some local grant opportunities, and with the help of both his future wife, co-founder Cindy Zimmerman, and his favorite aunt, John started Fern Street Circus, a community-building social circus in San Diego's Golden Hill neighborhood. The next year, the nonprofit unveiled its first show to more than 500 community members. "That's what attracted me to circus," John said. "It isn't stuck in one building. Instead, it's an art form where we could actually go out into neighborhoods and play in parks and play for people where they live, work, and learn. It's something that transcends barriers between people of varying cultures and languages."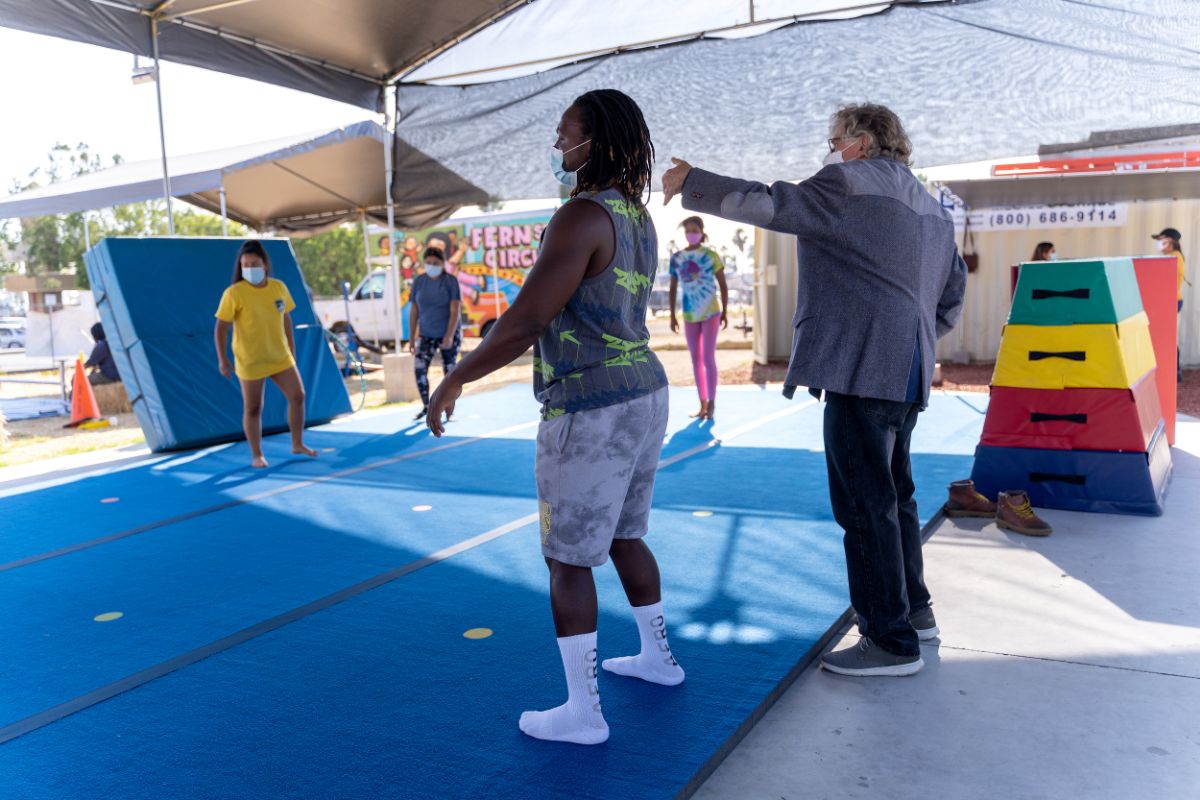 For the next 13 years, John and Fern Street Circus continued to create memorable experiences in and around San Diego, and the community arts nonprofit quickly built a reputation for itself of providing people with unusual, albeit entertaining experiences close to home. Additionally, in 1993, Fern Street Circus launched a free-of-charge after-school program in the local recreation center. During that time, John learned a lot about how to create stories through circus and to make contact with diverse communities, and how to bring people together to mix and mingle around the spectacle, music, and acrobatics of his talented team of circus artists. "We want to talk to people in communities, and we want to be a way for people to come together," John said. "Even if the story is subtle and doesn't immediately hit people, it's entertainment that they don't usually see in their neighborhood parks."
In 2003, however, John felt worn out. A looming budget crisis led to huge drops in government funding at the state and local levels. Despite the success of the organization, more than a decade of serving as the nonprofit's de facto grant writer, artistic creator, financial officer, human resources director, and community relations guru left him ready for a change. John passed over the nonprofit's reins to a committed group of internal stakeholders, moved to Kansas to be closer to Cindy's family, and took a government arts job in the city of Salina.
It was ultimately grandchildren, not the circus, that brought John and Cindy back to San Diego in 2010. Although John became the executive director of an arts education organization called Young Audiences of San Diego and felt fulfilled by his work, he couldn't escape his previous association with Fern Street Circus. According to him, people would come up to him on the street and ask him what happened to it, mentioning how much their kids loved the music, how much they missed the shows, or how much they enjoyed the quick-witted, bilingual ringmaster. At that time, the circus had been on a hiatus for a few years as it struggled to raise money. That didn't stop John from wanting to bring it back to life. In 2014, John left his job, and with a new board of directors, Fern Street Circus kicked off a revival campaign. "We started basically from nothing again," John laughed, "except this time we had our name and goodwill. That has carried us through very well over the last seven-plus years."
A Responsive, Personable, and Proactive Lender
When the COVID-19 pandemic struck in early 2020, Fern Street Circus had to adapt. It immediately started offering online classes on Zoom to youth in the community. Amazingly, without the scheduling constraints of working out of its local rec center, the nonprofit's teaching artists were able to connect and serve after-school families even more deeply. Additionally, Fern Street began to do socially distanced performances for families standing in line to pick up groceries at their local food distribution sites with the San Diego Unified School District. Between May and mid-November 2020, John estimates that Fern Street Circus did nearly 40 events and reached upwards of 12,000 community members.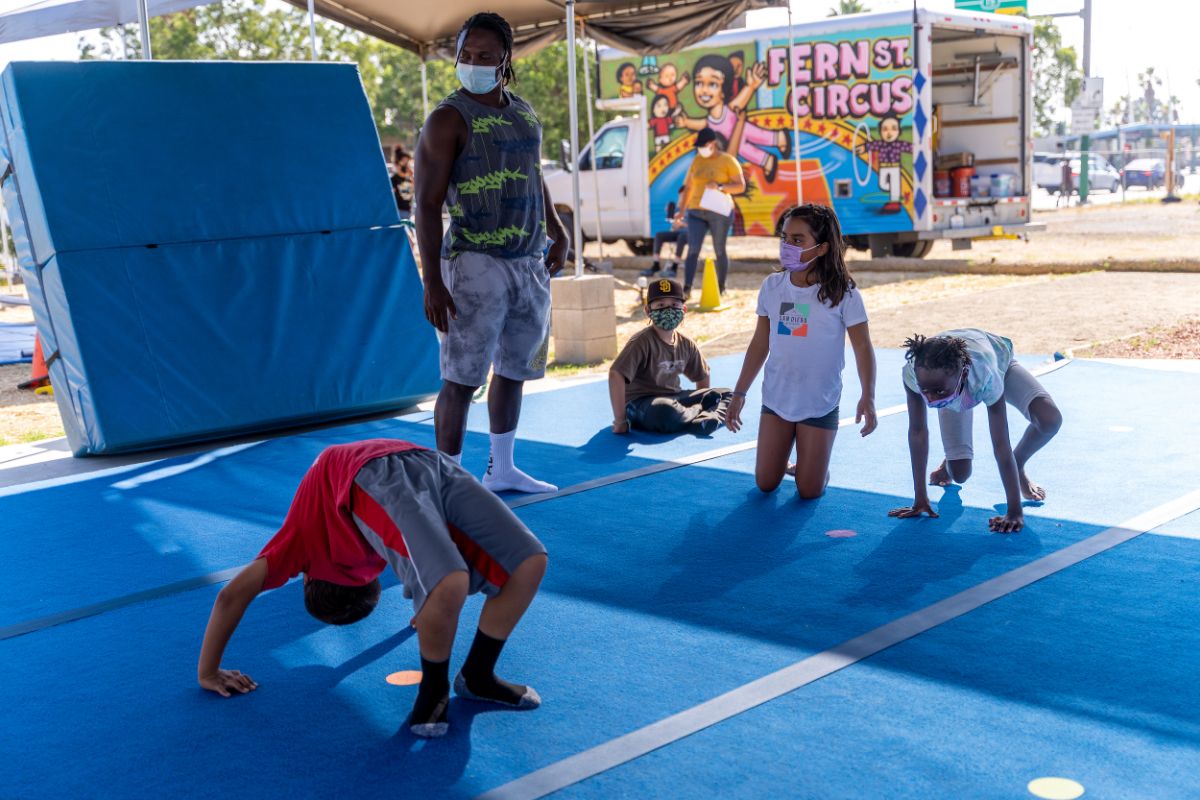 While those community-based performances and classes buoyed the nonprofit's spirits, it still required funding in order to remain operational; however, when PPP funding became available, John was skeptical that Fern Street Circus would even qualify. Unfortunately, neither of the big-name banks that the nonprofit had banked with for 30 years was helpful. After "striking out," John received a note from Self-Help Federal Credit Union informing him that the credit union had received funding support through The California Endowment to distribute PPP loans. Self-Help is a low-income designated credit union that was chartered in 2008 to build a network of branches that serve working families and underserved communities. Self-Help currently has nearly 80,000 customers across California, Illinois, and Wisconsin, and it has over $1.2 billion in assets. CNote partners with low-income designated credit unions like Self-Help across the country through its Promise Account program.
John recognized Self-Help's name — the credit union has an office two blocks away from Fern Street Circus' gym. He sent an email, and this time, the person on the other end wrote back with good news. "From the start, they were responsive and personable," John said. "A real human person was assigned to walk me through the process, which was a very sharp contrast to [those big banks], which were impenetrable. Self-Help was proactive, and they helped me at every stage. Once we got the PPP, they kept in touch afterwards."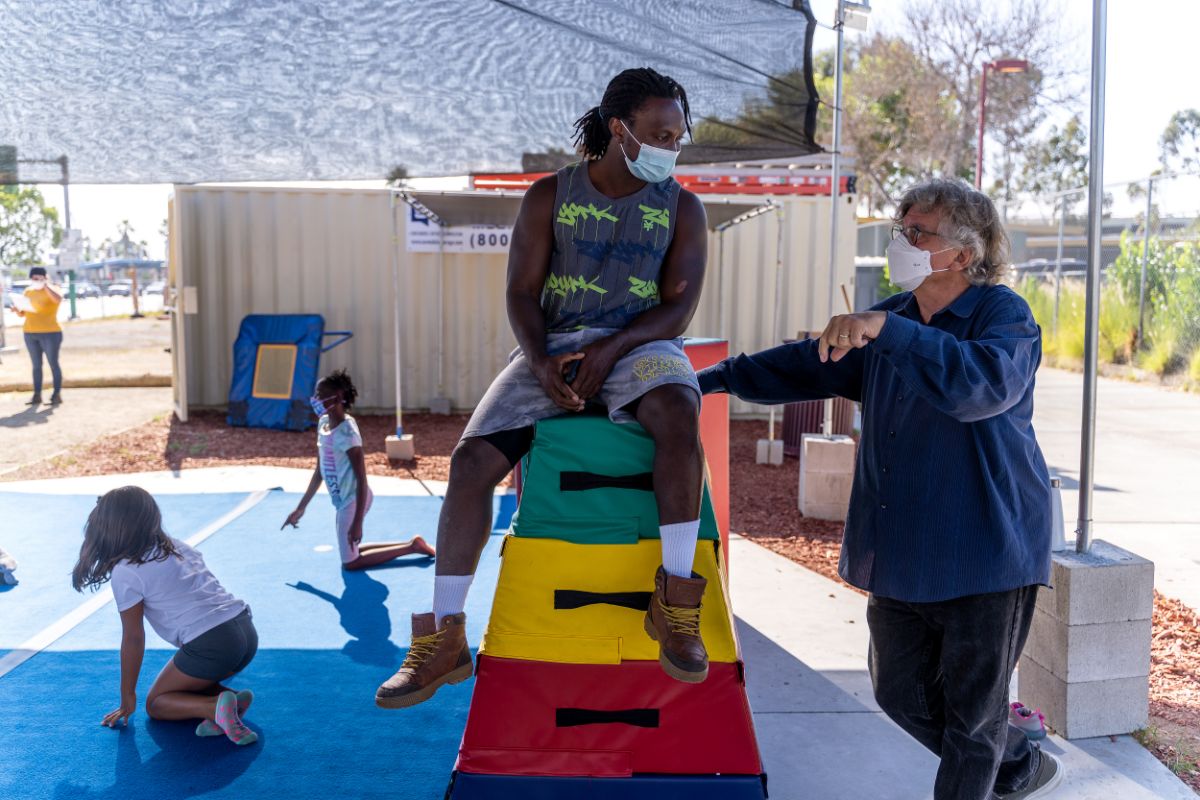 That ongoing communication proved critical for Fern Street Circus. Not only was the nonprofit able to have its first $30,000 loan forgiven, but it was also able to receive additional funding during the second round of PPP lending. According to John, the first thing the nonprofit did with the PPP money was to hire seven teaching artists who weren't getting unemployment but who had great need. Fern Street Circus put them to work leading classes and supporting students near and far. "That's a concrete result of what we were able to do through the PPP loan. I'm pretty savvy and well-educated, and I was nonplussed by the PPP application," John said. "We would not have gotten funding without Self-Help. It had a huge impact on us."
A Circus In Good Hands
Given all of the years that John has been involved with Fern Street Circus, it's not surprising that he has countless memories to smile back on; however, when asked to share one of his most memorable moments with the community arts organization, interestingly, he chose to recount a story about crossing a street and falling down. Ever the producer, John is usually the first person to arrive at an event and the last one to leave, and on this particular production date, he happened to be carrying an open container of oil (although he doesn't remember exactly why). As he hustled from one side of the street to the other, John slipped; yet, as he tumbled to the ground, he managed to prevent the oil from spilling.
Although he doesn't know why this particular memory lodged itself in his brain, the story is representative of John's innate drive to put others ahead of himself, including Fern Street Circus, and as the nonprofit moves further into its third decade of existence, John is intent on ensuring that its future isn't tethered to him. In that way, Fern Street Circus recently hired its second full-time employee, Marcela Mercado, a well-respected community member and activist who serves as the organization's general manager. Additionally, the nonprofit recently opened its Outdoor Circus Community Center in the City Heights neighborhood of San Diego, giving Fern Street Circus a temporary space to host after-school programs, show rehearsals, and performances by the Circus and other artists. According to John, the organization's long-term dream is to hire more staff and to have its own building where it can continue to serve families and transform neighborhoods through circus arts performance and teaching.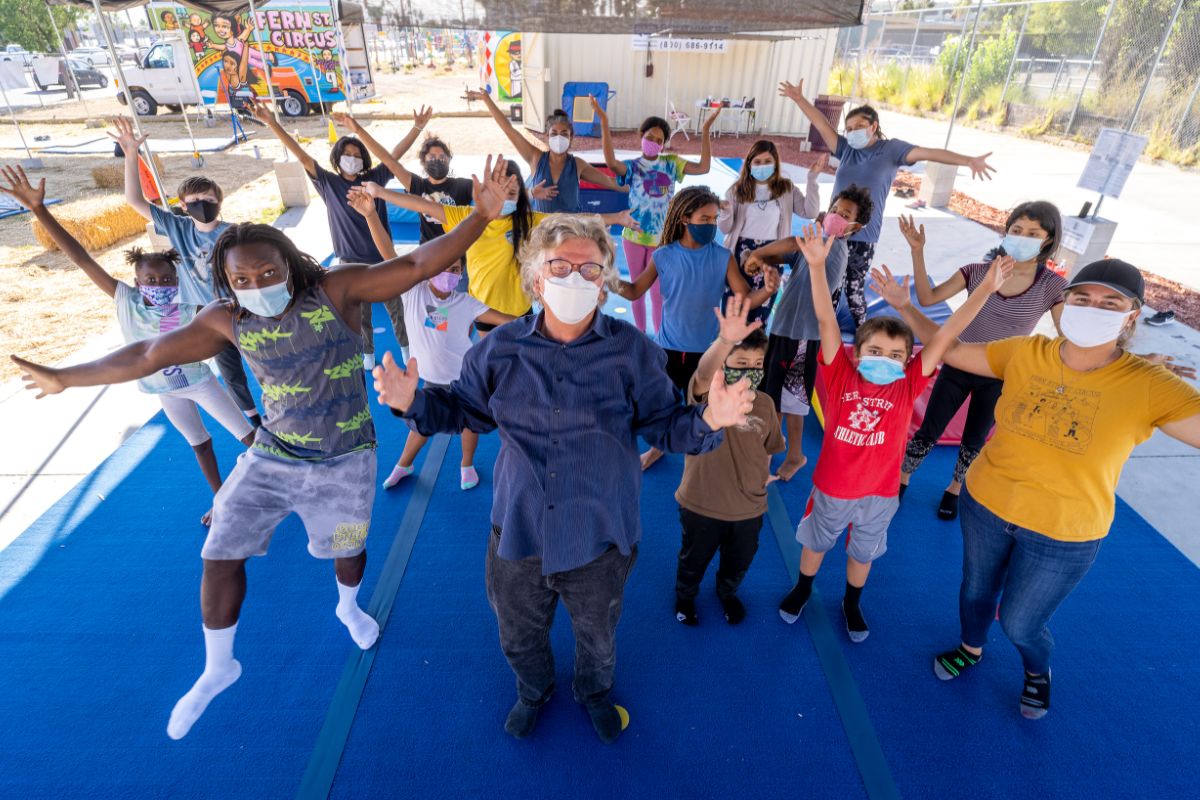 At 70, John jokes that he's not getting any younger, and although he'd like to remain involved with Fern Street Circus for a long, long time, he wants other leaders in the neighborhood — who, he says, don't share his white privilege — to be a part of the organization's long-term vision and future. "I want to phase myself out," John said. "It's not just about age. What has kept us vital is that we're equal parts circus arts and social justice, and for us to be truly representative of a neighborhood as broad and diverse as ours, Fern Street Circus' leadership needs to reflect that."
Learn More
Fern Street Circus

is a nonprofit that serves families and transforms neighborhoods through performance and teaching of circus arts.
Self-Help Federal Credit Union was chartered in 2008 to build a network of branches that serves working families and underserved communities. Serving more than 78,000 members, Self-Help Federal is one of the fastest-growing low-income designated credit unions in the country. 
CNote – Interested in helping create another story like this? CNote makes it easy to invest in great Credit Unions like Self-Help, helping you earn more while having a positive impact on businesses and communities across America.