In the years leading up to the COVID-19 pandemic, Toni Hopkins and her husband talked about moving from their home in Springfield, Illinois to North Carolina to pursue what she describes as "something different." They'd even gone as far as to meet with a real estate agent to explore selling their house. Ultimately, the couple abandoned their plans to pursue a fresh start at the onset of the pandemic. However, Toni's desire for "something different" persisted. That's when she began to listen to the entrepreneurial voice in her head that had spent the past three years telling her to start her own business.
For Toni, the idea of opening her own business was something of a fantasy. After more than 18 years working in accounting and finance, she was tired of the monotony. Over her career, she'd heard people — coworkers, friends, family members — vocalize wanting to do something different with their lives but never acting on those wants. Toni's problem was that she knew she wanted to start a business, but she didn't know what kind of business she wanted to start. She'd even stumbled across a vacant commercial space near her home in Springfield that she determined would be perfect for her nameless, yet-to-be-created future store.
During the early weeks of the COVID-19 pandemic, when stay-at-home mandates went into effect and Toni began to work from home, something changed inside of her. Not only did she and her husband decide to stay planted in Springfield, but that's when she decided that she was going to shift from talking about opening her own business to actually making it happen. "The pandemic hit, and I said 'okay, this is the time for me to actually do this,'" she said. "Like everybody else, I started working from home, and I realized that I could be doing something else with my time that I wanted to do instead of pushing numbers."

Fortunately, Toni was surrounded by a supportive husband, daughter, and son who encouraged her to embrace her entrepreneurial side. She set her fears aside and began to look for the right business opportunities in her community. It didn't take her long to connect the dots between one of her passions — fashion — and the fact that there weren't many black-owned clothing boutiques in town that sold trendy yet affordable clothes and accessories. Toni had found her business idea: Cool J's Apparel. Amazingly, the "perfect" commercial space that she'd seen from her car window a year earlier and fallen in love with was still available. Even more amazing was the fact that Toni was able to work with the landlord to sign a lease.
Falling Into Place
According to Toni, every aspect of her business seemed to effortlessly fall into place. Through her research, she'd learned that women were continuing to purchase clothing during the pandemic and that boutiques like the one she wanted to open continued to be profitable amidst the wide-scale economic uncertainty. That helped to shape the business plan that Toni wrote and carried with her to her local bank to apply for a small business loan. Although the banker told Toni that he couldn't help her because the loan request wasn't big enough, he told her to reach out to Justine PETERSEN, a Community Development Financial Institution (CDFI) that offers a variety of financial tools and service to help low- and moderate-income individuals and families achieve their personal financial goals. CNote partners with CDFIs like Justine PETERSEN in communities across the country, funding loans and empowering local entrepreneurs like Toni through CNote's Flagship and Wisdom Funds.
Toni reached out to the CDFI in November 2020, and she quickly connected with Aida Richardson, Justine PETERSEN's chief lending officer. "Aida was so helpful from the very beginning," Toni said. "She just knew so much, which was the biggest help. This was my first time opening a business, but she'd done this hundreds of times, so Aida just made it so easy. She answered all of my questions and emails and didn't hesitate to always point me in the right direction."
With micro-enterprise lending from Justine PETERSEN, Toni was able to do everything she needed to open Cool J's Apparel on May 28, 2021. According to her, the loan money from the CDFI helped her with every aspect of her business, from paying rent to completing renovations and from purchasing inventory to buying the iPad that she uses to complete sales. Additionally, Toni says that the CDFI helped her to make her business "become legit and successful," meaning she was able to leverage those loan dollars to invest in marketing, advertising, and signage. Most importantly, even though Toni received her small business loan roughly 12 months ago, Aida and her colleagues at Justine PETERSEN continue to tell Toni that they're always available whenever she needs anything, whether that's a quick question that can be answered over the phone or ongoing technical assistance to help take her business to the next level.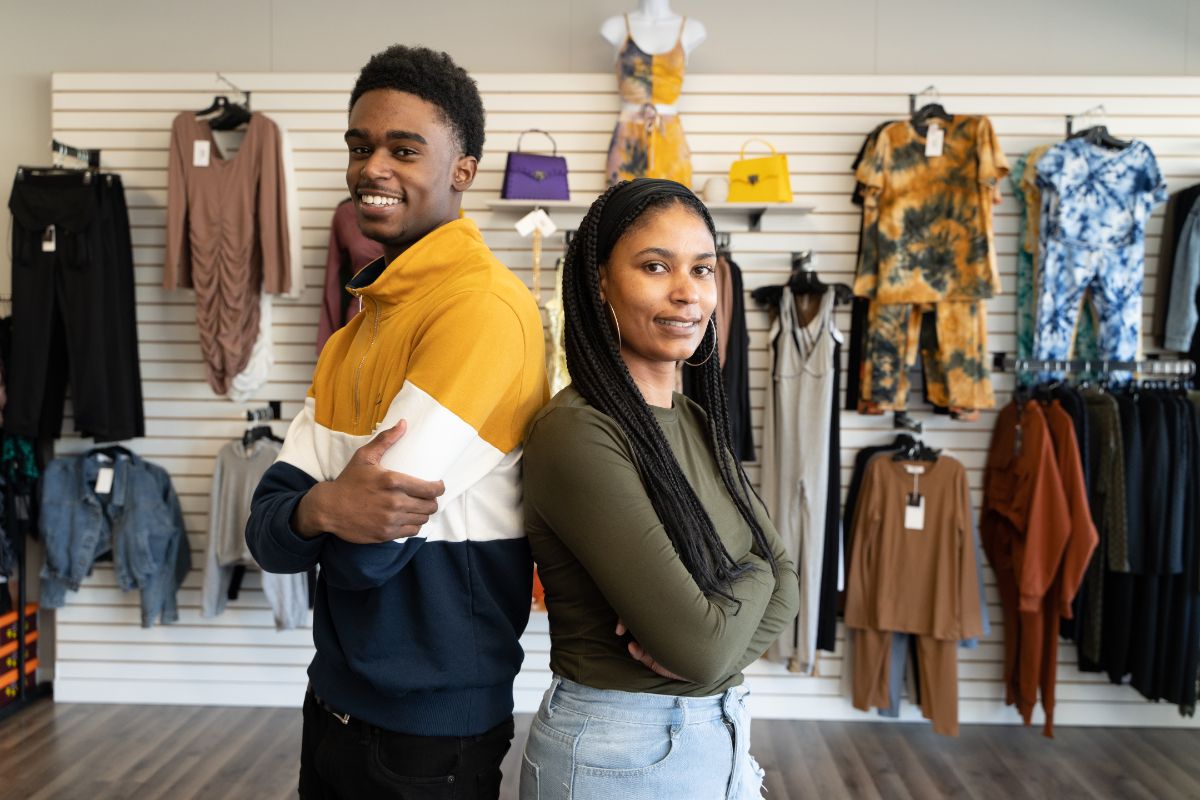 Unsurprisingly, Toni's positive experience with Justine PETERSEN is largely why she describes opening Cool J's Apparel as "so easy." In the process, she's inadvertently become one of the CDFI's biggest cheerleaders. "I've been telling everybody about them," she said, laughing. "They'll let you know right away if they can help you or not, and if they can't, then they'll put you on the right path and they'll give you the steps to help you. It's a relationship that I'm really appreciative of, even today."
'I Love Doing What I'm Doing'
Although the COVID-19 pandemic couldn't deter Toni from opening Cool J's Apparel in May 2021, it did limit her ability to have a grand opening celebration — something she's considering remedying in the coming weeks. That doesn't mean that the women's clothing store where "cute meets comfortable" has struggled to find its footing in Springfield. Business is going well, and Toni says the store enjoys support from both local customers and shoppers who drive down from Chicago. The broad geographic interest in Cool J's Apparel stems from the fact that Toni carries stylish yet affordable clothes and accessories for all ages. "My customers are Black and white, young and old, and just really diverse," she said. "I'm not joking. It's craziness. I don't know how people target one specific group, because I have such a big range of customers here."
Cool J's Apparel even attracts the occasional male customer, which has prompted Toni to consider incorporating a menswear section into her store — or perhaps into a larger location. In the nearterm, Toni would like to hire some help. Currently, Toni operates the store while she continues to work her part-time, remote nonprofit job, and although she appreciates the help she gets from her family, including her niece, she wants to either hire two part-time employees or one full-time staff member as soon as she's able to. Additionally, Toni is interested in deepening her small business' connection to the surrounding community, such as sponsoring events where all proceeds go to donating backpacks to the local school.
Even though Toni has the occasional quiet day at Cool J's Apparel, she's pleased knowing that when customers do come into her boutique, they tend to walk out with a bag of new clothes. "People that have never been my customers before, they come in and they find something that appeals to them," Toni said. "I love that. Even on slow days, I still love being here and doing what I'm doing."
Learn More
Justine PETERSEN

 

is 

a CDFI

 that connects institutional resources with the needs of low-to-moderate-income individuals and families in Missouri, helping them to build assets and create enduring community change.
CNote – Interested in helping create another story like this? CNote makes it easy to invest in great CDFIs like Justine PETERSEN, helping you earn more while having a positive impact on businesses and communities across America.