Cortaiga Collins never intended to open her own business, let alone her own early childhood education center. Instead, Cortaiga received her bachelor's degree and was on track to become a CPA. However, when she had her second child in 2000, everything changed. After having her first child as a senior in high school, Cortaiga felt like she got a second chance at parenting. The St. Louis, Missouri-native wanted to do everything perfectly, but when her three months of maternity leave finished and it was time to find a daycare center for her son, Cortaiga discovered that it was difficult to find a place that she trusted with her baby. After a series of bad experiences at both commercial daycare centers and home-based operations, Cortaiga decided to quit her job at a city government agency to create a childcare solution that offered quality services to families.
Before Cortaiga could open her own center, she had to immerse herself in early childhood care. She enrolled in classes at community college and took an administrative job at her church's elementary school. Soon after, she became the director of the school, where she gained valuable experience. Finally, in 2009, the then-single mother of two found herself on the brink of being licensed and opening her own center, Good Shepherd Preschool and Infant/Toddler Center, with the social mission to raise the standard of childcare and to create a quality early childhood program that equips children for school and the world. "Getting open was the most cumbersome part of it all," Cortaiga said, "I had no experience with permits and licenses and inspectors and building requirements. I didn't have thousands of dollars saved or a mentor. I got a $35,000 grant, but that wasn't enough."
Fortunately, Cortaiga was able to get the rest of the capital that she needed to open her business from Justine PETERSEN, a Community Development Financial Institution (CDFI) that connects institutional resources with the needs of low-to-moderate-income individuals and families in Missouri, helping them to build assets and create enduring community change. CNote partners with CDFIs like Justine PETERSEN in communities across the country, funding loans and empowering local entrepreneurs like Cortaiga. With capital from Justine PETERSEN, Cortaiga was able to finish renovations to her space and open the doors to Good Shepherd. The CDFI also connected her with an accountant that she continues to work with today.
Since it got up and running, Cortaiga's business has been full steam ahead. Good Shepherd opened in March 2009, and by Halloween, it'd already outgrown its space. Cortaiga decided to open a second location, and again, Justine PETERSEN provided funding to help Cortaiga with her expansion. Then, in 2018, Cortaiga bought land in the same low-income community to build a $2.5 million state-of-the-art childcare center that would bring both of her centers together under one roof. The new development is set to open in October 2021, and with the larger space, Cortaiga will be able to grow her team from 14 employees to over 20. Better yet, the larger facility has the capacity to serve over 100 children at a time. "I never knew that this journey would take me to where I am and where I'm going," Cortaiga said. "I'm just a former single mom who wanted a safe place to take her kid. Now, I'm in uncharted waters with this space. It's scary and exciting, but you know what they say: 'if you build it, they'll come.' I'm counting on them coming."
Investing in the Future
While it's incredible how far Cortaiga — and her business — have come since she quit her job 21 years ago, all of that success was nearly erased by the COVID-19 pandemic. The perfect storm of shutdowns, remote work, fear, and uncertainty almost shuttered Good Shepherd, and according to Cortaiga, despite the fact that she was able to begin to bring a limited number of infants and toddlers back into her centers last November, she's still working her way toward full capacity. "At one point," she said, "I began to prepare my staff and my parents that we were going to have to lay off everybody if we didn't fill our available slots. For months and months, we were dangerously close to having to shut our doors."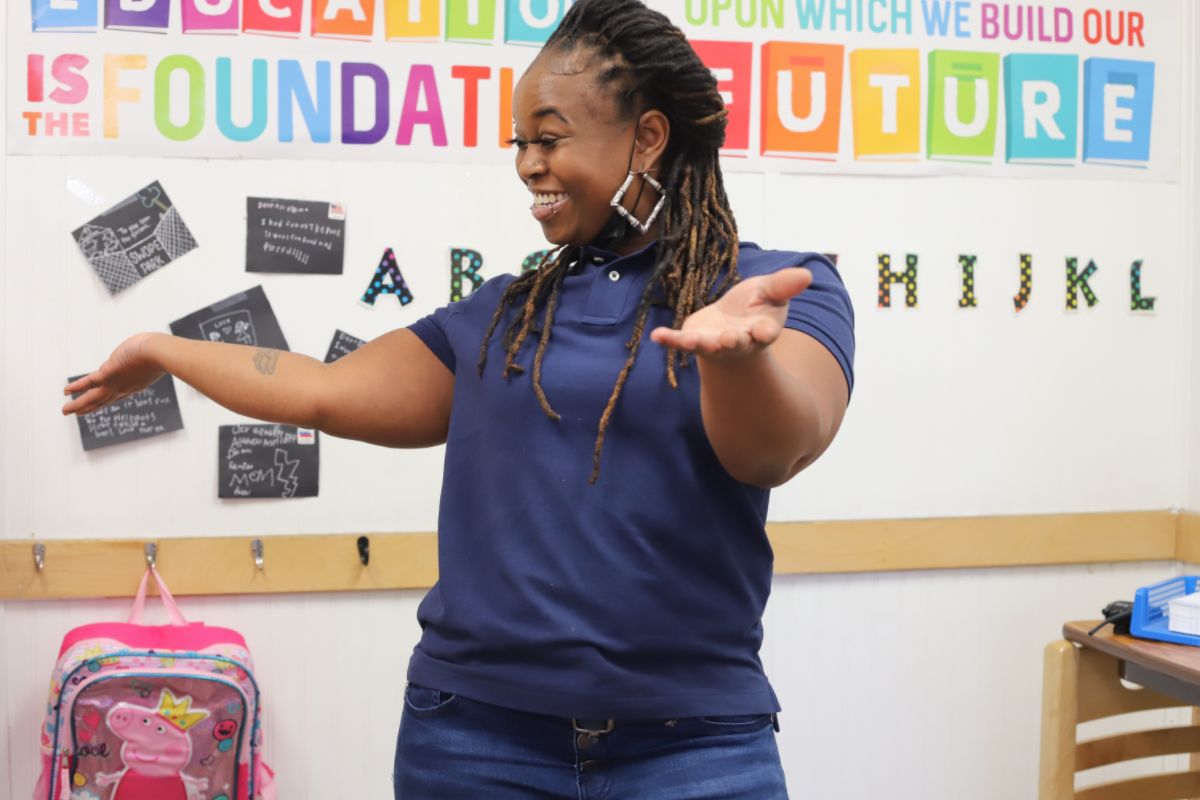 Thankfully, Cortaiga didn't have to close her business. Instead, she and her team are preparing to move into their new expanded center. To help get the word out, Cortaiga has been getting digital marketing assistance from a marketing and social impact consultant introduced to her through Pacific Community Ventures (PCV), another local CDFI referred by Justine PETERSEN. After tackling her business's website and social media presence, Cortaiga said that she plans to work with a PCV-provided business mentor to help her with more Human Resources-related elements of her small business. According to her, recruiting and retaining qualified employees are her biggest challenges. Despite those headaches, Cortaiga says it's the children that keep her motivated to run her business. "No matter what's going on, kids just love so freely," she said. "They're so forgiving and resilient, and seeing their emotional and academic development and progress makes it all worth it."
From Kids to Community Development
When asked about the future of Good Shepherd Preschool and Infant/Toddler Center, Cortaiga doesn't just share her dreams for her small business, she shares her dreams for her community. Through her more than two decades of working with children in her community, Cortaiga has learned that it's not just children who need care — it's entire families. That led her to launch a nonprofit called Foundation for Strengthening Families with the goal to help families rise above poverty through education. Not only does the organization offer early childhood education programs, but it also has adult education classes on topics such as health and wellness and financial literacy. "They say if your dreams don't scare you, then they're not big enough," Cortaiga said. "I see me in a lot of people in this community — especially the single moms. I grew up in poverty, and I know how my life has changed as a result of not living in poverty anymore."
Cortaiga's vision for her slice of St. Louis — and her desire to help families break out of generational cycles of poverty and to purchase local homes  — is inspired by the work being done by the Harlem Children's Zone in New York and the East Durham Childhood Initiative in North Carolina. As much as she's looking at communities across the country to see where she can borrow from already established community development playbooks, Cortaiga is hoping to forge local partnerships to bring her vision to fruition, including with Mayor Tishaura Jones, the city's first Black woman mayor. "No one organization can get all this done," she said. "Collaboration is such an integral part of being able to create lasting change in a community. We want to rebuild and restructure this community by rebuilding the residents so that this can be a thriving place to live."
Learn More