Nola Veazie grew up in Panama with the belief that she could do anything she set her mind to. Nola's mother, who raised her children on her own, encouraged all of her children to dream big; however, when Nola was 16, she realized that the opportunities she wanted for herself didn't exist in her home country: they were in the United States. At 17, Nola, along with her sister, got her mother's blessing to move to the U.S. to live with their grandmother.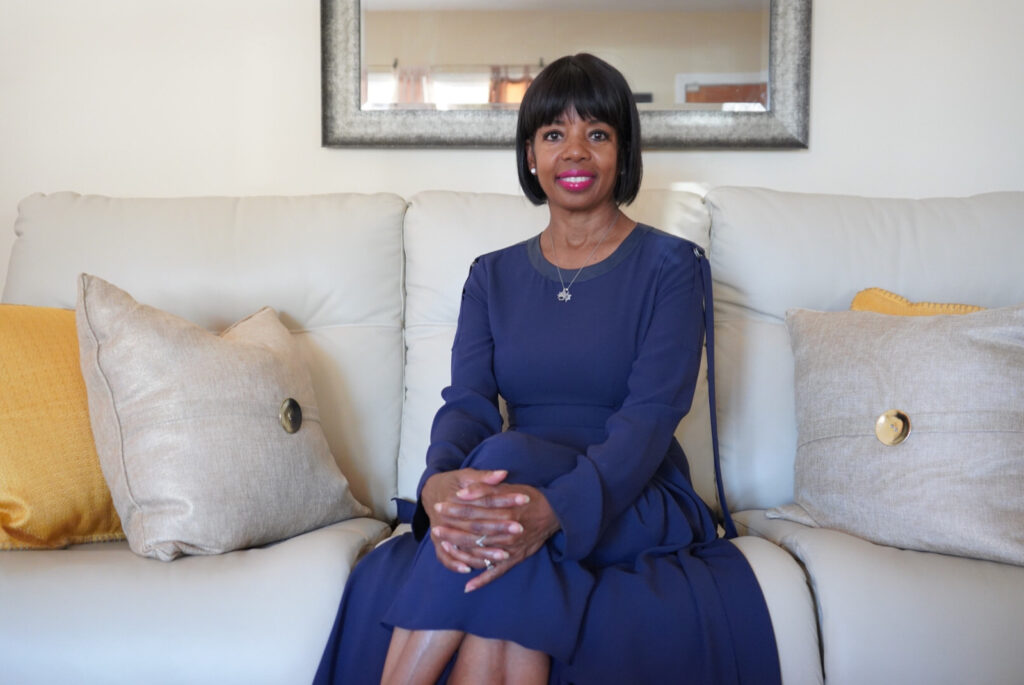 "We spoke very broken English," Nola said, smiling. "But we went to school, and we learned the language. My mom had taught us that when there aren't opportunities, you create your own. I had a vision of creating something for myself.
That drive led Nola to enlist in the Air Force, where she eventually discovered a psychology program that appealed to her. She got her master's degree in counseling and eventually received her PhD in psychology. She began doing marriage and family therapy, as well as individual therapy. In 1995, Nola and her husband, who also served in the Air Force, left Nebraska to serve overseas. In 1998, the couple was transferred to Santa Barbara County, California. That's when the Air Force gave Nola the opportunity to become a drug and alcohol addiction specialist.
"It was great," Nola said, "because as providers, we were treating mental health, but we were not treating, nor did we understand, addiction. And so in order to expand my knowledge, I got certified in that field and was then able to treat people with co-occurring disorders."
Around that same time, Nola began to moonlight as a licensed therapist and addiction specialist. Initially, she worked in group homes, meeting clients who were struggling with both addiction and mental health. Although she was seeing clients, Nola was also speaking at conferences. That's what led the head psychologist at the United States Penitentiary, Lompoc, a medium-security federal correctional institute in California, to reach out to Nola to see if she'd be interested in providing training services for the prison's staff. For Nola, it was not only a new professional opportunity for her, but it was a way for her to begin to transition to civilian life.
Life After the Air Force
After 20 years of military service, Nola retired from the Air Force in 2002. Initially, she worked as a director for a drug and alcohol nonprofit that provided a residential program for mothers; however, Nola also continued to work with children in group homes and to train prison staff. Over the years, Nola developed an offering of continuing education units (CEUs). Drug and alcohol counselors have to take a certain number of CEUs every two years in order to maintain their certification.
Nola's CEUs were in high demand. Although she'd been working as an independent contractor since 1995, Nola officially structured V-Solutions Consulting as an LLC in 2016. She subsequently got a State contract through The Department of Corrections to provide training, consulting, and staff development in five California prisons. That number has since grown to 23 prisons across the state.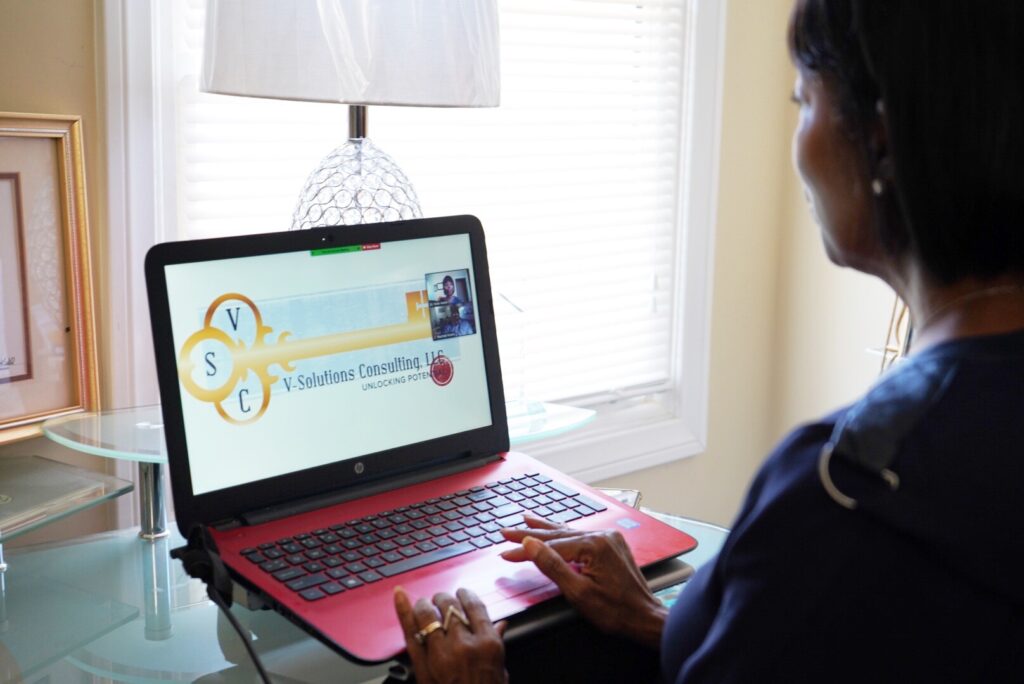 V-Solutions partners with two major companies, Amity Foundation and Phoenix House, and Nola's team is those companies' staff development and training specialists. V-Solutions, however, works with anybody with a drug addiction certification, providing the latest treatment protocols and interventions to those who need to maintain their CEUs.
Whereas Nola has created V-Solutions Consulting to be a B2B company, she's also structured her Service-Disabled Veteran-Owned Small Business in a way that empowers others. Nola contracts doctoral students, post-doctoral fellows, therapists, and other drug and alcohol counselors to be trainers. In fact, one of her contractors previously spent time in prison. As such, in addition to providing training to staff, V-Solutions also trains long-term prisoners who've received their drug and alcohol certifications while in prison. Nola calls them "peer mentors."
"I think that's the most inspiring thing," she said. "To see people who are justice-involved themselves getting inspired to help other people and to learn beyond what they've learned in prison, that inspires me."
Having The Right Mentorship to Grow
In 2016, Nola was selected to be a part of Inner City Capital Connections (ICCC), a tuition-free executive leadership training program designed by the Initiative for a Competitive Inner City (ICIC) to help business owners in under-resourced communities to build capacity for sustainable growth. The training was hosted in Los Angeles, and that's where Nola was connected with Pacific Community Ventures (PCV), an Oakland-based Community Development Financial Institution (CDFI) committed to investing in small businesses, creating jobs, and making markets work for good. Through the Wisdom Fund initiative, CNote partners with CDFIs like PCV to provide small business coaching, mentorship, and technical assistance to entrepreneurs like Nola.
"I have a great mentor at PCV who listens and gives me ideas that I was able to use to grow," Nola said. "Before, I was fulfilling these contracts, but I didn't see myself growing outside of what I knew and outside of my comfort zone."
PCV assisted Nola with marketing and technology. More so, the CDFI advised her to go to colleges and universities to recruit contractors to work alongside her.
"They said, 'a lot of small businesses don't have the capital to hire people, so why don't you go to colleges and schools, find people who are graduating or postdocs who need experience, and then pay them high enough so that they want to stay on and be part of your team.'"
That's exactly what Nola did. Today, she has a team of five committed contractors that she works with, and Nola encourages them to create their own training sessions and content that interests them. That's because Nola recognizes and views her contracted colleagues as fellow entrepreneurs who can bring new ideas and skills to V-Solutions.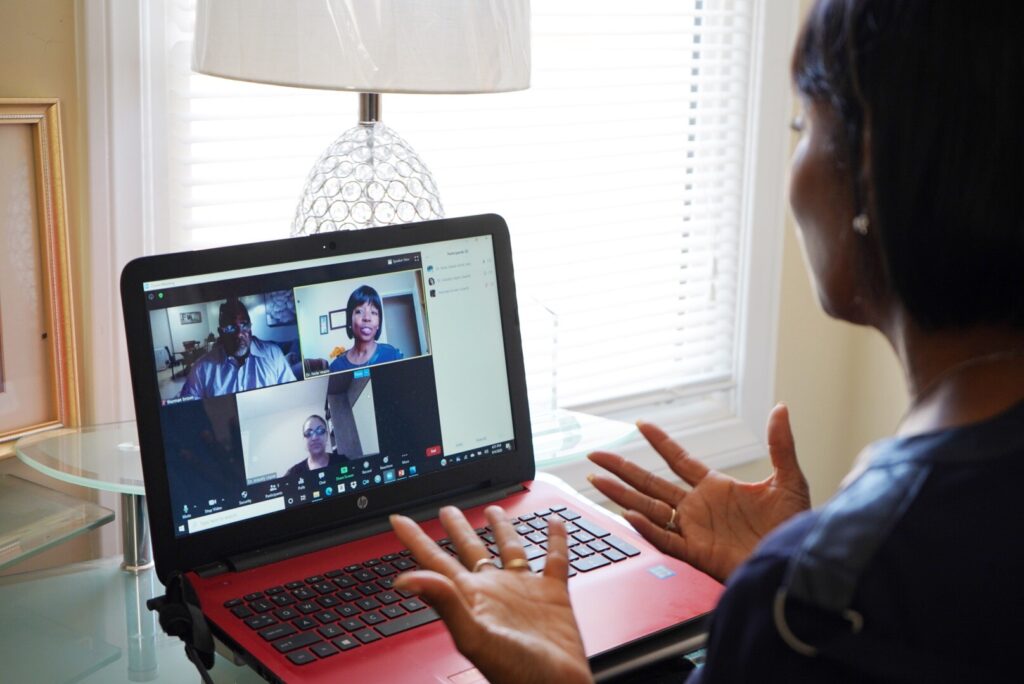 Besides specific advice and mentorship, PCV has also provided Nola with reassurance and encouragement. According to her, it helps to have somebody both to act as a sounding board to her ideas and to tell her that she's on the right track. With the support, she's confident that she can grow her business. For Nola, that means expanding V-Solutions Consulting's training offerings to include workshops on how implicit and explicit biases affect the way counselors provide services. She'd also like to expand into different industries, such as the security sector, and to work with businesses that would benefit from learning about how to deal with individuals who struggle with addiction.
Whereas the COVID-19 pandemic has been devastating (she lost her sister to the virus), it's also provided Nola an opportunity to reach a wider audience. This year, Nola got V-Solutions certified in the State of New York to provide drug and alcohol CEUs, and she's looking for other opportunities outside of California to expand V-Solutions' work.
"I was given a chance when I came to a new country," Nola said, "and I want to help give other people a chance to become better. I want to be that person who inspires others to create opportunities."
Learn More
Pacific Community Ventures is an Oakland-based CDFI that empowers small business owners and helps impact investors make investments that create shared prosperity and sustainable communities through a "Good Jobs, Good Business" model." 
CNote – Interested in helping create another story like this? CNote makes it easy to invest in great CDFIs like Pacific Community Ventures, helping you earn more while having a positive impact on businesses and communities across America.