Here at CNote, we fight for financial empowerment. That sounds like a lofty sentiment, but oftentimes it plays out fairly simply in reality: small businesses need loans, and CNote provides community lenders with the funds to make more of these loans. Traveler is one of the many success stories associated with community lending. We're excited to share the story of Julie Cox and her small business, Traveler.
Founded for travelers, by a traveler: How Julie Cox's journey led her to create Traveler Surf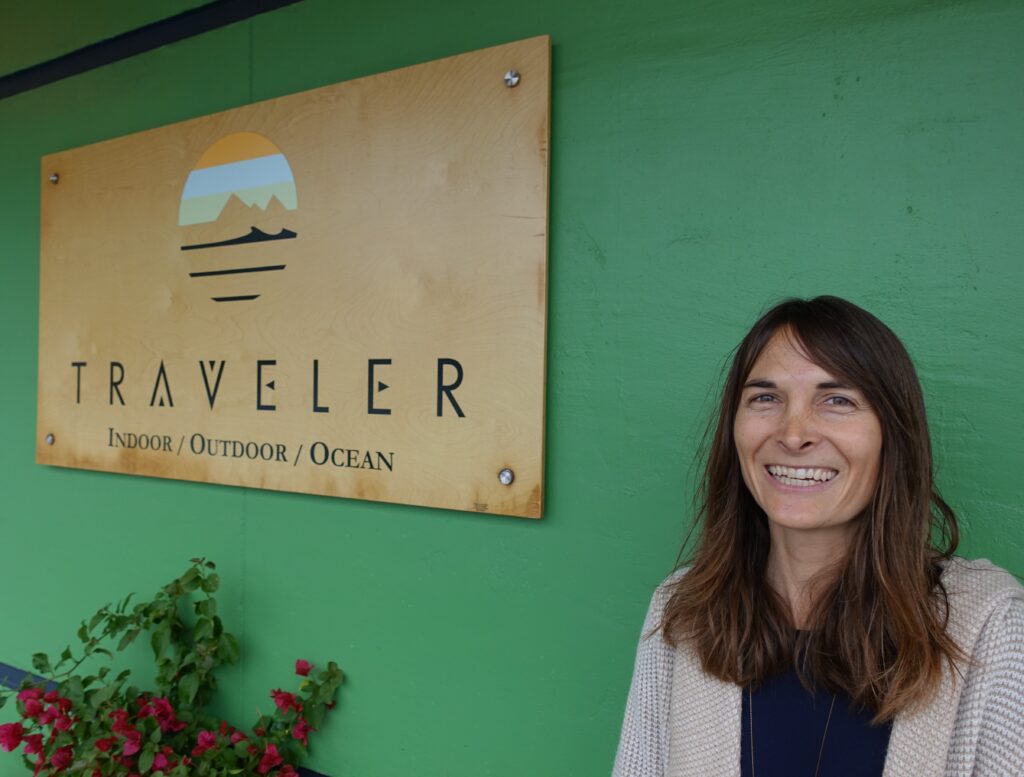 So what is Traveler? As stated on their website, "Traveler is an outdoor and adventure inspired retail store and Surf & Swim Club located just steps from Linda Mar Beach in Pacifica, California." 
Founder Julie Cox goes into more detail: "It's kind of a two-part business model: Retail—home goods, gifts, men's/women's clothing, some gear—everything you'd need for a picnic or going out hiking on the mountain…"And then the second part is the surf club in the backyard, with membership-based clients." 
Founded in October of 2016, Traveler is a community-focused business that offers much more than its cleanly-branded storefront suggests. Tourists mill into the shop on their way to a wilderness adventure along the coastal Highway 1. They can browse through a selection of quality, socially responsible goods, from flashlights to maps, to Patagonia jackets, or grab a souvenir or last-minute piece of gear for their hike. As they browse, they are only steps away from breathtaking views of sea and mountain, which offer a preview of the adventure to come. 
Traveler – A confluence of Passions
When we asked about the origin of her business, Julie shared a resume of related experience that eventually led her to where she is today: "I've worked in a camp store before, taught surfing, designed surfboards, worked at surf shops, worked for surf brands, worked at a surf museum…I think all of that led me to finally culminate into my own business," recounts Julie. 
In another video, she confides, "Surfing, photography, hiking, being outdoors—those are my main passions." She adds, "And traveling." 
Traveling indeed. Traveler is the result of Julie collecting her passions in one place and sharing it with the world–so she can serve fellow travelers on their journies.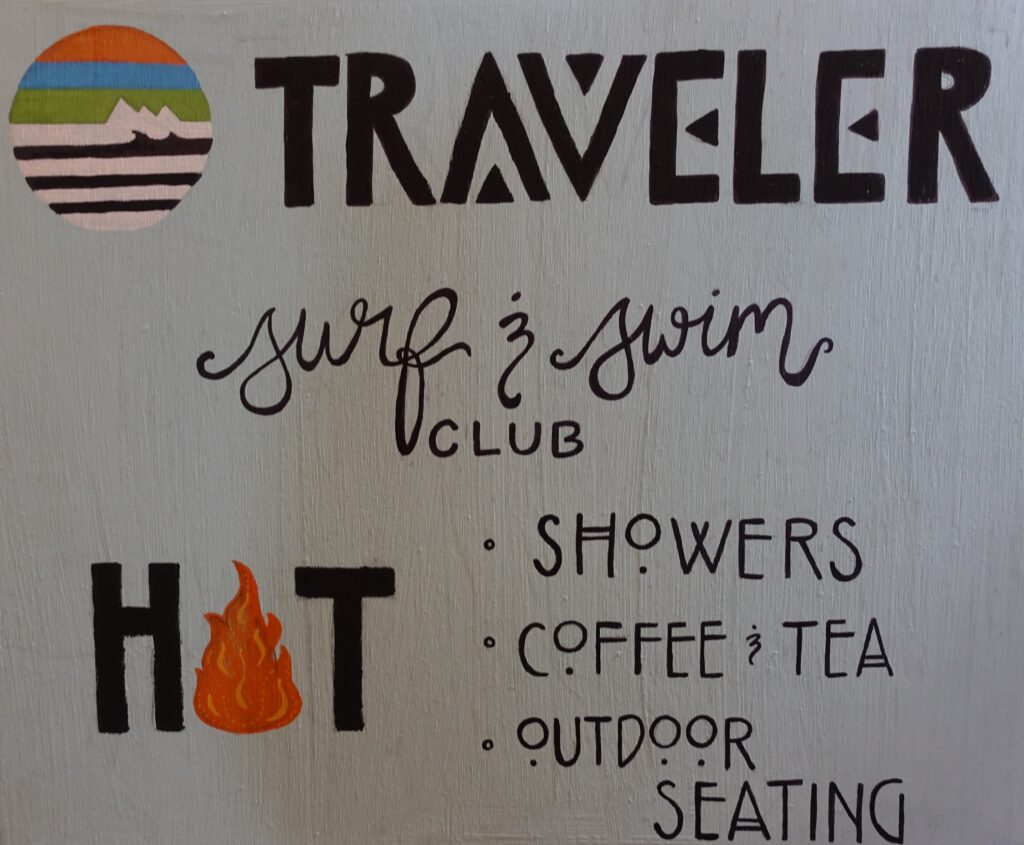 More than a business—A Hub where many journeys intersect 
Traveler is not just your usual, for-profit business. The mission statement on their website expresses their greater vision for genuine community: "Traveler's mission is to build community by bringing people together through weekly yoga classes, a variety of educational and meaningful events, the Surf & Swim Club, and through the retail store by offering quality handcrafted goods." Indeed, the store is set up so it can be converted into a large open space to host events, city meetings, classes, and to accommodate gatherings of any size. An involved local business, Traveler donates merchandise to support local charities and school raffles.
Surf club members greet each other in the shop, chatting about tides and life as they make their way to the back locker area to change into wetsuits, grab their boards, and head down to the water only a stone's throw away. There, they surf the waves of Linda Mar, which Julie Cox describes as a "very approachable beach." Afterwards, they can shower and warm themselves on outdoor heated benches, sipping a cup of complimentary tea or coffee.
And it works. Traveler attracts just the sort of people who value the simple but deep pleasures of life, such as surfing and nature.
Patrons find camaraderie in their common love for the store's "warm, inviting atmosphere" and product mix. They donate their boards to the club and make plans to attend surf camps or yoga sabbaticals together. Customers bond over events ranging from screenings of surf movies, to simply sitting on the heated benches in the backyard and hanging out. "I think that's important to build, it's not just social media and screen time…You're sitting next to someone looking at them in the face and talking and having meaningful connections," and Julie goes on to add "Traveler's definitely a little meeting spot, a little hub." 
And of course, it calls out to fellow travelers as inviting place to connect with new friends and recharge in between adventures. "Our name's Traveler, and that name kind of attracts people that are traveling from Europe or all over California and the U.S.," says Julie. 
One of the members, Michael Narea, acknowledged this on the Traveler blog, "Is [the surf club] a way to build a global community around the common ground respect and love for the ocean?" A couple months later, he blogged about his immersive experience surfing with the locals in Busan, Korea. He ended with, "Now back in the Bay Area, sitting at Traveler, I feel like the [Song Jeong Surf Club] and Traveler are distant cousins who may meet again through other members' stories and travels!"—A resonating Yes in answer to his original question. 
The Loan—Where Traveler's Journey, and CNote's, intersect 

But Traveler, and the special community surrounding it weren't always around. Rewind a few years back, when Julie Cox first conceived the idea to start a retail store that doubled as a surf club. Like all entrepreneurs, she had to work hard, with much patience and planning, to turn her vision into a reality: taking a business class, testing the idea, developing a sound business model and funding plan.
Her last hurdle was getting the loan. "It was hard. I just remember it being very stressful"—and no kidding: applying for a loan involves many phone calls, paperwork, and suspense as you wonder whether this will be the breakthrough that will finally get the business off the ground. 
But in the end, she got it—and from mission-based lender CDC Small Business Finance, a CNote-partner. 
CDC is a leading U.S. small business lender focused on helping entrepreneurs in underserved markets obtain financing. Over the last 40 years, they have provided more than $13 billion in funding to 11,000-plus borrowers — leading to more than 180,000 jobs created or preserved.
Unlike traditional lenders, CDC Small Business Finance considers a borrower's whole story instead of focusing solely on the hard numbers. Through personal customer service, small business owners are matched with the best loan to support their long-term success.
CDC worked with Julie to make the loan process as painless as possible. She got the loan, and the rest is history…
That was one of the best days…getting approved for the loan. Your heart just sings, because you know it's gonna happen.
With the added capital, she was able to purchase the inventory, and the fixtures and equipment she needed, to finally open her shop. She remembers her opening party, where they hosted the community and had live music and snacks. Seeing her customers enjoy the experience she had created was a crystallizing moment. 
Traveler—and all the community that comes with it—is yet another success story that came about through community lending. These investments aren't just in people, or businesses, they build communities–in this case a community that sprawls beyond a store and even across the globe. 
Traveling onwards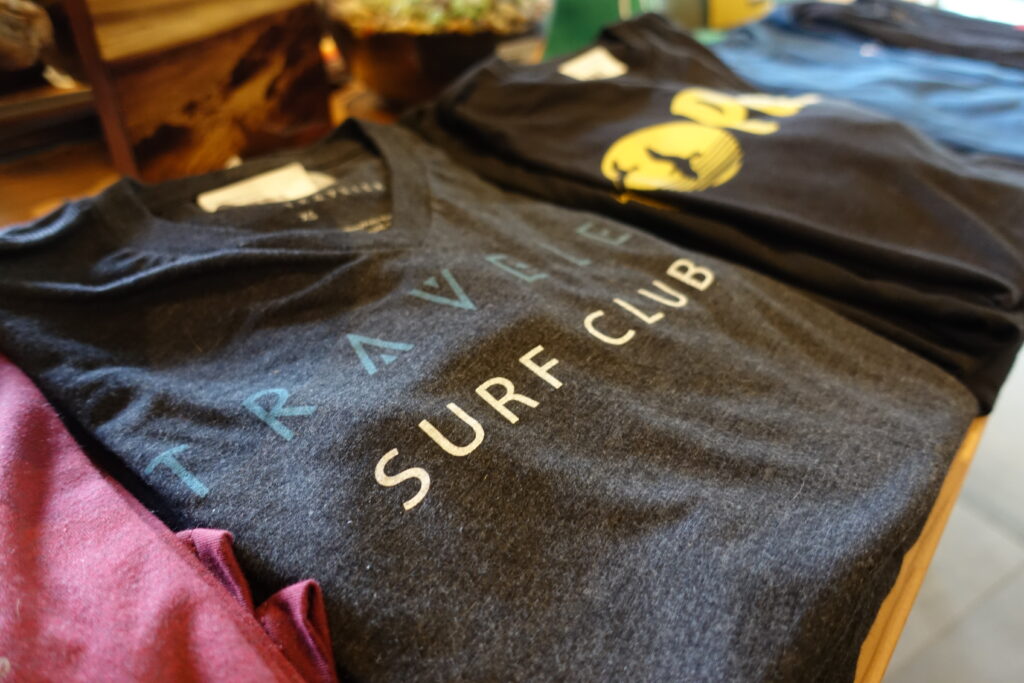 Traveler continues to grow. Their growing membership includes 50% locals, 25% North-Bay residents, and, of course, 25% travelers–a smattering of folks that include people from all across California, and as far away as Europe. The concept is working–membership is growing so fast they have plans to expand their surfboard storage in the coming year. 
Measurable Impact
We're excited that CNote helps to enable entrepreneurs like Julie to pursue their dreams of small business ownership. Not only that, but Traveler has four employees as well. As you can see, one loan can have a huge impact. Increasing capital access for everyone allows businesses like Traveler to offer their unique vision to the world. We truly believe you can earn more and do good with your money at the same time.
Learn More:
CDC Small Business Finance

is a leading U.S. small business lender focused on helping entrepreneurs in underserved markets obtain financing.