A Different Startup, With a Quirky Mission
Mamacitas Cafe, a specialty coffee and baked goods retailer in Oakland, is different. A lot of other coffee shops may say the same. Be it their brewing methods, the coarseness of their grind, or the music heard playing in the background, this cafe is on a mission to elevate women of color.  This coffee shop offers it's employees professional training, community building, and the ability to directly take part in day-to-day business tinkering and planning.
Impact First. Profit Second.
As with any coffee shop, Mamacitas Cafe was not immune to the challenges of a newly formed business. From payroll, equipment purchases, and construction to the unexpected removal from a commercial space it took serious commitment and foresight to stick to their guns and forge their own path. According to founder Shana Lancaster, at one point cash flow was barely enough to cover the rent for a temporary space let alone afford milk for the next day of business! Regardless, the founder's resolve remained strong as taking on debt was not going to be an option. 
Why? Well, to start, they knew they wouldn't qualify. But most importantly, traditional sources of capital would have put too much pressure to focus on what did not matter, such growing way too fast. So, Mamacitas Cafe went the alternative route and successfully completed two Kickstarter Campaigns and took out a Kiva Zip loan.
The co-founders are equally invested in their Oakland community as they are in their business. Growing up in the city and having participated in a variety of women and other minority groups, they have a clear point of view on the community issues. Young women of color are clearly a forgotten pool of talented, creative, and driven people who are continuously challenged to prove themselves time and time again. And the Mamacitas' focus on empowerment, love and growth is what has put them on the map.  All the while tripling their revenue in just two years!
Success by Partnerships
Mamacitas Cafe, although awaiting their first commercial kitchen space, has been successful for the past two years due to their strong relationships in a values aligned community. From a subsidized shared kitchen space in exchange for food retail training to women of color to pop-ups around the East Bay this business will always do good for its community.
Small Business is Good Business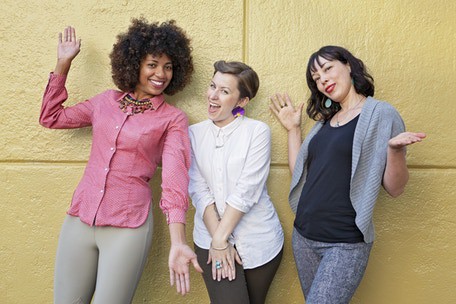 In the end, we should be remembering what it is a company does outside of its' concrete walls. Mamacitas Cafe can do that in so many words that it is hard to choose the right ones. Growth. Empowerment. Resiliency. Earned Income potential. Education.
It doesn't matter though. Because no matter what you or I think of them, they will always put their Sisters first. With quirky, heavenly donuts on the side.