Tanesha Sims-Summers has been an entrepreneur since she was a little girl when she would weave her way through the gridlocked traffic waiting to get into Birmingham's Legion Field for the Alabama-Auburn football games, selling homemade popsicles for 50 cents as she went from car to car. Tanesha went on to graduate high school, and she matriculated at the University of Alabama at Birmingham, where she studied marketing and Spanish. She recalls that when she graduated college, she didn't feel the same pull to get a "real job" as her friends. "I remember that I didn't want to work for anybody," Tanesha said. "I just wanted to start a business then, but I never knew what that business was going to be."
Without a business plan in mind, Tanesha took a job in investment banking to provide stability for her first child. After seven years in that space, she felt burned out and decided to pivot to digital marketing, where she spent the next six years of her career helping entrepreneurs grow their businesses. In 2014, however, Tanesha was ready to start something for herself. That's when her aunt, who lived in Virginia and helped to raise Tanesha alongside Tanesha's grandparents, mentioned that people were going crazy over kettle corn. At the time, even though Tanesha was on maternity leave, she felt drawn to the idea. She did some research, looked at the numbers, and decided that this could be the business opportunity for which she'd been waiting.
Soon after, she founded Naughty But Nice Kettle Corn Co., a gourmet, hand-popped kettle corn company. Tanesha's first event was the Annual Whistle Stop Festival in Irondale, Alabama, and she didn't let a newborn baby hold her back from booking as many events as she could that first summer. Instead, her husband (and co-founder) stepped in to take care of the four kids while Tanesha got her feet underneath her as a business owner, racking up successful event after successful event. "We've invested time, sweat equity, education, and money in this company," Tanesha said. "It's paid for itself from the start, and we've seen a 20% or more increase in revenue year over year since we first launched."
Learning Is Growing
While Tanesha credits Naughty But Nice Kettle Corn Co.'s success with having a quality (and addictive) product, she notes that utilizing community resources and seizing every opportunity to educate herself as an entrepreneur have equally fueled her company's growth. That thirst for education is what led her to connect with TruFund, a Community Development Financial Institution (CDFI) that invests in small businesses in Alabama, Louisiana, New York, and Texas. CNote partners with CDFIs like TruFund in communities across the country, providing business coaching, funding loans, and empowering local entrepreneurs like Tanesha.
In 2019, TruFund provided Tanesha with a $50,000 loan to complete the build-out of Naughty But Nice Kettle Corn Co.'s food truck — Miss Poppy — and to provide some extra cushion for miscellaneous expenses. "We would not have been able to be up and running and popping around the city without that investment from TruFund," Tanesha said. "But they didn't just offer us lending, they offered us education. As entrepreneurs, sometimes we do need capital, but sometimes we need to learn how to be more efficient, how to streamline our processes, and how to allocate money effectively so that we can continue to grow."
To date, Tanesha has taken advantage of a number of TruFund's programmatic offerings, and through the CDFI, she's connected with and learned from fellow entrepreneurs near and far from Birmingham. "It's been invaluable being able to see other women in business who're able to really share their skillset and to learn from one another," Tanesha said. "As entrepreneurs, we have to be intentional about utilizing services and asking for help, and TruFund is here to help us make changes to our businesses that impact our bottom lines and that align with our community investment goals."
Poppin' Into The Future
Today, Tanesha has evolved her customer base to include corporations, hotels, universities, and wedding and event planners; however, it's arguably Naughty But Nice Kettle Corn Co.'s commitment to its community that makes it one of Birmingham's standout small businesses. Through its Poppin with a Purpose campaign, Naughty But Nice Kettle Corn Co. supports local organizations, nonprofits, and small businesses, whether through "PoPraising" (fundraising and donations), sponsorships, or volunteerism. Tanesha's company also has an initiative called Make Your Local Pop, where Naughty But Nice Kettle Corn Co. partners with local businesses like Eugene's Hot Chicken. "I really believe in the power of collaboration," Tanesha said, "so we partnered with Eugene's Hot Chicken and used his spice on our product to really show the versatility of kettle corn. We want to make the world a sweeter place to live, one kernel at a time, and we will continue to do that through these community campaigns."
When Tanesha isn't thinking about how to best serve her loyal following of "PoP heads," she's likely thinking about her goals and vision for the future. She'd love for Naughty But Nice to be a household name; however, she doesn't want that recognition to come by way of big box stores and national grocery chains. Instead, Tanesha wants to do everything she can to preserve the experience surrounding getting her kettle corn into customers' hands, perhaps by expanding her fleet of Miss Poppy trucks and meeting new customers where they are: at local breweries, farmers' markets, and community celebrations.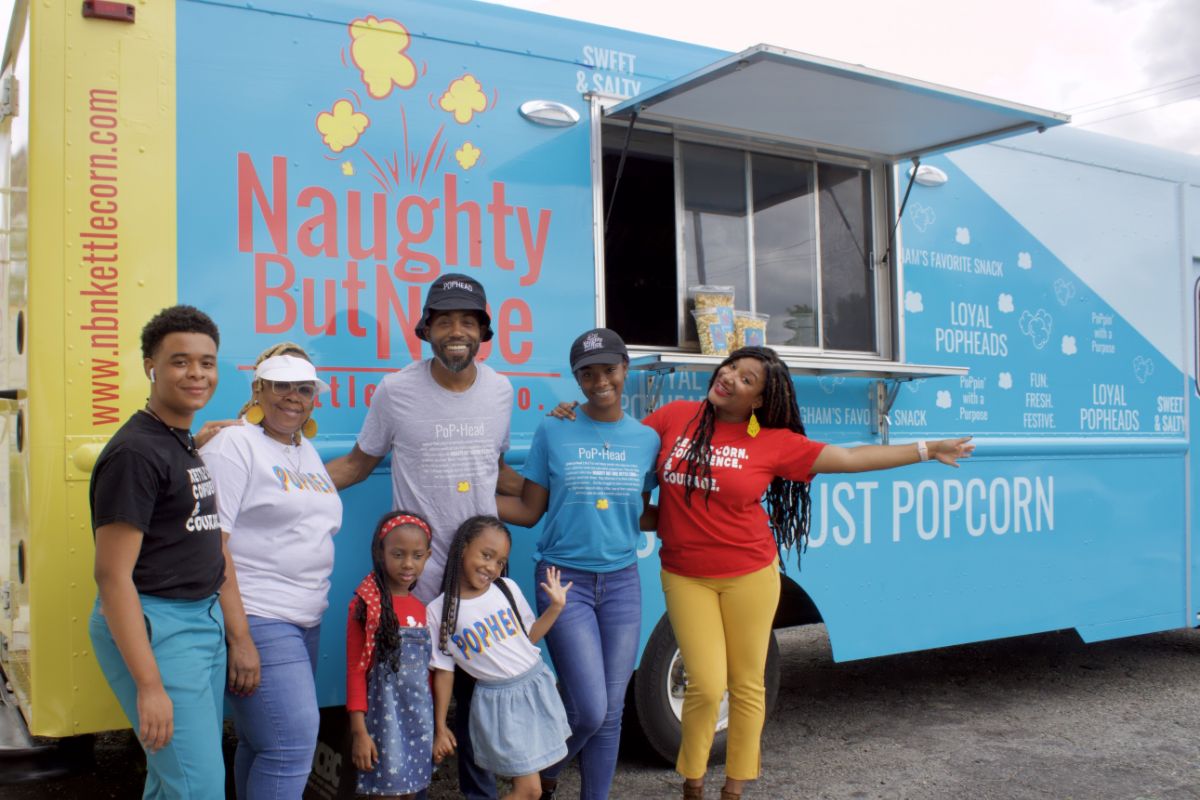 On a personal note, Tanesha says that in the coming years, she'd also like to strike a better balance between work and home. That includes one day getting to a point where she doesn't have to continually stay up until 3 a.m., which she currently does to both maximize time with her children and run her business. "I just always say, if you're going to doubt anything, doubt your limits," Tanesha said. "Do it scared, do it tired, and do it with purpose. And educate yourself. As an entrepreneur, that's where you can stay sharp and make sure you're making the right decisions for your business. That's my mantra."
Learn More
Naughty But Nice Kettle Corn Co is a gourmet, hand-popped kettle corn company based out of Birmingham, Alabama
TruFund – is a 501 (c) 3 certified Community Development Financial Institution (CDFI) headquartered in New York City with field offices in Alabama and Louisiana. TruFund tailors its financial and technical assistance to the unique needs of each site—from contractor mobilization lending in New York and Louisiana to rural Black Belt initiatives in Alabama.
CNote – Interested in helping create another story like Tanesha's? CNote makes it easy to invest in great CDFIs like TruFund, helping you earn more while having a positive impact on businesses and communities across America.