If there's one thing that Rebecca Biesenbach loves, it's Blue Bell's old-fashioned ice cream. And it's not just the company's 66 unique flavors and deep Texas roots that she appreciates: Rebecca loves how Blue Bell's ice cream brings people together.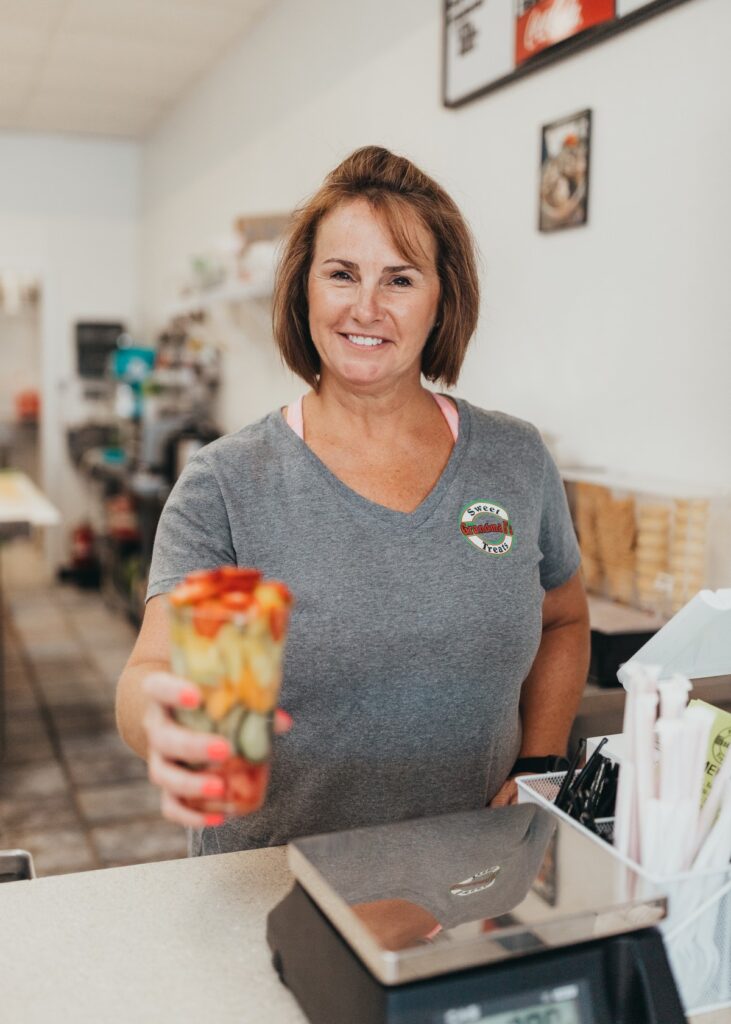 That's what led her to open her own ice cream shop in Rockport, Texas, in 2018, after Hurricane Harvey destroyed the town's only purveyor of Blue Bell ice cream the year before.
Opening a small business — Grandma B's Sweet Treats — in the wake of a major natural disaster wasn't an immediate decision for Rebecca, who at the time lived in San Antonio. Before the hurricane, she and her family frequently visited Rockport to escape the big city, to relax, and to fish. Following Harvey, Biesenbach and her husband returned to the coastal town to repair their house and to help out neighbors. After a hard day's work, all Rebecca wanted was some good ice cream — but according to her, there wasn't any. "After Harvey," Rebecca said, "I just kept saying 'God, I miss my ice cream.'"
After a fair bit of sleuthing, Rebecca found out that Waffle Cone's owners — who'd operated the store in Rockport for over 20 years and sold Blue Bell ice cream — decided not to reopen, leaving the town with an ice cream gap. "You gotta have an ice cream store," Rebecca said. "I literally got into this because my husband got tired of listening to me say how much I missed Blue Bell. That's it."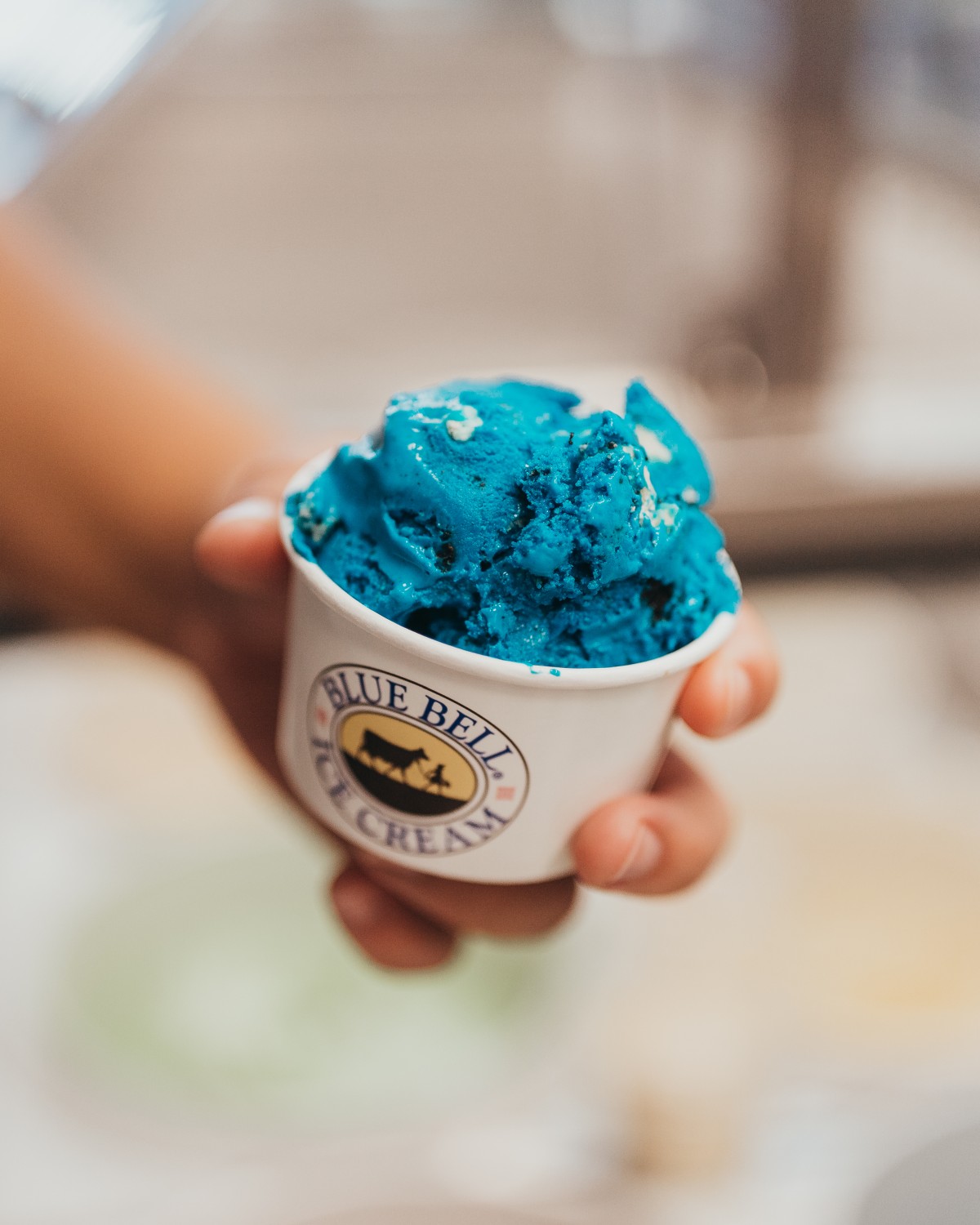 Even though she spent over two decades working in the dental field as an office manager, Rebecca wasn't completely new to running her own business. Her husband has owned and operated his own plumbing company, and Rebecca kept the business' books in order and worked with the accountant to keep everything straight. "I knew we could do it," she said. "Our last kid was out of school, we could move down there, bring the other business, and open up a store. It'd be fun, and it'd give me something to do."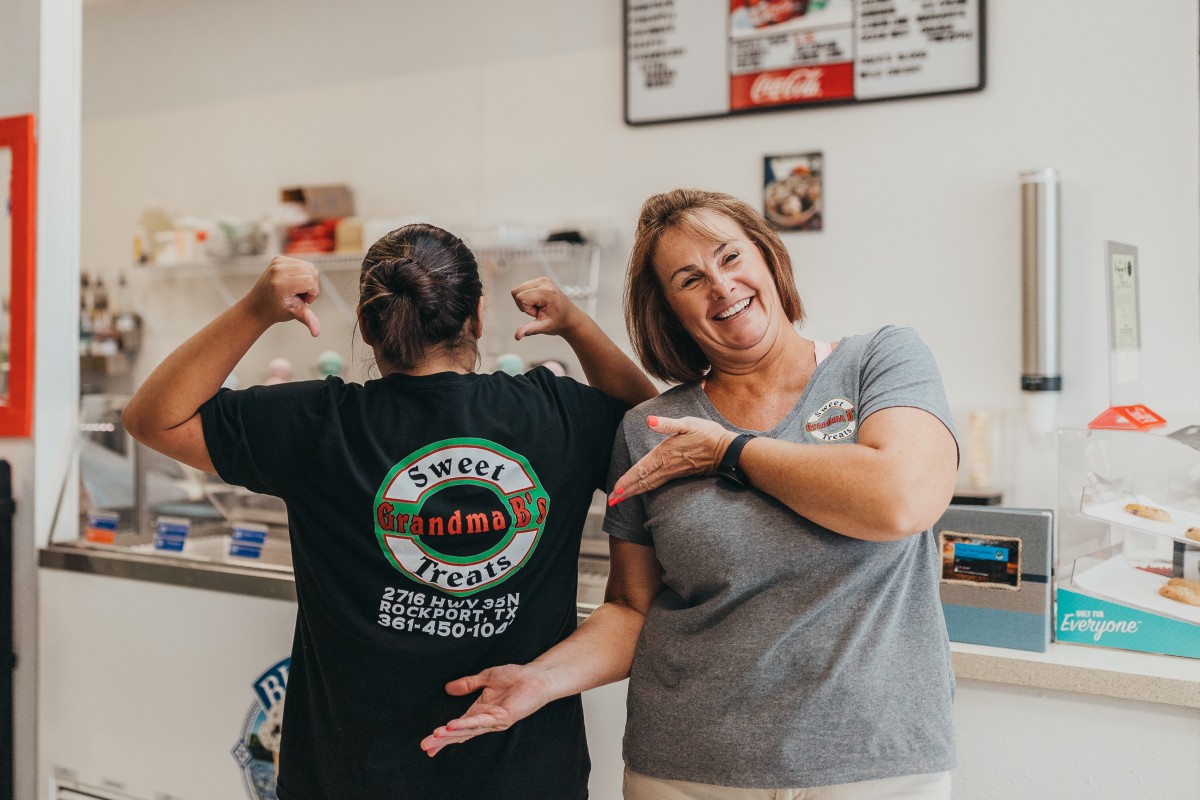 At the end of 2017, just months after Harvey had ravaged Rockport, Rebecca was busy looking for a commercial space to rent and for equipment to buy. In February of 2018, she permanently moved to Rockport, and a month later, she opened Grandma B's Sweet Treats, which sells 16 different flavors of Blue Bell ice cream, as well as candy, sandwiches, soups, and salads.
Help Along The Way
Even though Rebecca says that her and her husband's two companies are going strong today, getting Grandma B's off the ground wasn't without its bumps.
To help get Grandma B's up and running, Rebecca went to her bank to inquire about a small business loan. Although she was originally denied for a loan due to the fact that Grandma B's wasn't "an established business," the employee told her that another one of the bank's customers had recently received a loan through LiftFund, a San Antonio-based Community Development Financial Institution (CDFI). CNote partners with CDFIs like LiftFund in communities across America, funding loans to small businesses and empowering local entrepreneurs like Rebecca.
Rebecca applied for a LiftFund loan and got the capital she needed to keep Grandma B's afloat. "LiftFund helped us with some of our operating costs when things slowed down coming out of the winter months," Rebecca said. "We were able to use the loan to help keep us steady, and it helped us to get that ice cream machine that's sitting out there now. That was one of the big purchases."
More so, Rebecca has been able to attend several of LiftFund's small business webinars, which she says were helpful.
However, the most important thing LiftFund provided Grandma B's with was stability. "Without that loan, it would have been a struggle," Rebecca recalled. "I probably would have had to let people go. But because of me getting that money, I was able to keep people employed."
Ice Cream Scoops Are Here To Stay
Grandma B's currently has a staff of five, including Rebecca, and the shop is open seven days a week, serving Texans from all over the state.
"We've had a lot of people thank us for opening up and for giving back," Rebecca said. "Our most exciting day was opening the doors and being able to give ice cream back to Rockport, because I thought this town really needed it. Everybody needs a little help now and then. The community helps me, so I help them."
Following Harvey, Rebecca says that a number of local businesses have yet to return to Rockport, and many likely won't. Grandma B's, however, isn't going anywhere.
"I want to see this grow," she said. "I love it, and it's totally different than what I've ever done. I want to be here for years to come."
Learn More
LiftFund is a community small business lender that transforms lives by opening doors and providing capital, financial coaching, tools and resources to entrepreneurs who do not have access to loans from commercial sources. Since 1994 LiftFund has provided over $300 million in capital, propelling the dreams of over 20,000 diverse small businesses throughout its 13 state footprint.
CNote – Interested in helping create another story like this? CNote makes it easy to invest in great CDFIs like LiftFund, helping you earn more while having a positive impact on businesses and communities across America.