Vanessa Silva has always been comfortable in the kitchen. As an introverted child growing up in Brazil, food was how she preferred to communicate. Cooking became Vanessa's love language, and by the time she was 10 years old, she was quite fluent in that love language, preparing special dishes for her parents' dinner guests and family gatherings.
However, despite Vanessa's talent as a youth chef, when the time came for her to go to college, her parents wanted her to study something that would allow her to have a "serious, money-making professional career." Therefore, Vanessa went to university and double majored in chemical engineering and food technology. After she graduated in the early 1990s, she headed to Prague for an internship in an organic chemistry laboratory. Although she traveled to Europe to advance her scientific career, Vanessa found herself working night shifts in a small cafe, both as a waitress and as a consultant in the kitchen.
"That was the first time I realized that there is a kind of universal language in the kitchen," Vanessa said. "No matter where you are in the world, if you have some sort of proficiency in the kitchen, you can go and ask for a job."
Vanessa left the Czech Republic for California around the Dotcom Boom. She pivoted from chemical engineering to web communications, and she took a job at a marketing agency that catered to biotech companies in the Bay Area. For the next 12 years, she spent her days working in corporate communications, and in her free time, she cooked. Over the years, she volunteered at a half dozen different cooking schools and programs, working alongside professional chefs and getting personalized attention.
According to Vanessa, those experiences made her realize that she had a special talent in the kitchen. For the first time, she recognized that cooking was her "language" and that she wanted to find a way to professionally communicate that language. When her daughter was born 11 years ago, Vanessa still had one foot in the corporate world and the other in the kitchen. However, she was ready to make her move.
An Entrepreneur in the Kitchen
Vanessa spent the next few years getting her entrepreneurial feet underneath her. She launched a homemade baby soups delivery business and, later, a bone-broth business. When her daughter entered preschool, she applied for a grant from the San Francisco Garden Society to put in a new garden at the school. Vanessa received the funding, and she started a food garden with the kids. The program was a hit.
"I was literally the most popular mom," Vanessa laughed. "Moms would say to me "wow, my kid never eats this stuff at home, but with you, they love it.' It was just so rewarding to work with the kids. I felt like I was onto something."
At the parents' urging, Vanessa decided to host a one-week summer camp out of her Mission-District apartment. Every day, she'd take the kids to a different neighborhood destination, including local bakeries, restaurants, and farmers' markets. Vanessa even took the children to a chocolate factory. After every visit, the group would return to Vanessa's home and tackle a food-related project related to what they saw and experienced. However, after four years, Vanessa was finding it challenging to make ends meet in San Francisco, especially as a single mom.
In early 2016, Vanessa was approached by a business woman who wanted to open an art and cooking school for children. She told Vanessa that she could put forward the money to open the school if Vanessa would be the sweat-equity partner. The two agreed to run the business fifty-fifty. Later that same year, Culinary Artistas opened in a 2,400-square-foot space in Ghirardelli Square, across the street from the beach. Six months later, however, Vanessa's business partner had to pull out. Not only that, she left Vanessa $40,000 behind on rent. If Vanessa was going to be able to keep Culinary Artistas open, she was going to need some help.
Learning A Second Language: Business
Vanessa explained her situation to one of her good friends, who happened to be a serial entrepreneur. Together, they sat down to take a close look at Culinary Artistas' viability.
"I didn't know how much money we were putting in and how much money we were getting out each month," Vanessa said. "All I knew was the pulse of the business seemed right. Every month, we were getting more students. I could understand those indicators, but not the rest. Our fixed costs? Sales projections? I didn't know any of that."
Vanessa's friend helped her to better understand the nuts and bolts of running a business, and together, they came up with a plan. Vanessa went to her landlord, who agreed to not only forgive the rent she owed, but to have Culinary Artistas pay a significantly reduced rent for two years. Vanessa signed a new contract, and Culinary Artistas had a new life.
As she grew her business, however, Vanessa realized a couple of things. First, a teaching school for kids was too niche, especially considering that both chefs and teachers are underpaid for their services. Therefore, Vanessa decided to expand the scope of Culinary Artistas to include adult classes, corporate team offsites, and events. It proved to be a good move. Within a year, Vanessa and her growing team doubled Culinary Artistas' revenue.
The second thing Vanessa realized is that she needed more formalized business coaching. That's when Vanessa connected with Pacific Community Ventures (PCV), an Oakland-based Community Development Financial Institution (CDFI) committed to investing in small businesses, creating jobs, and making markets work for good. Through the Wisdom Fund initiative, CNote partners with CDFIs like PCV to provide small business coaching, mentorship, and technical assistance to entrepreneurs like Vanessa.
Whereas Vanessa was appreciative of her friend who'd offered her free business advice, having a coach to meet with on a weekly basis made a big difference for Vanessa.
"It was huge," she said. "PCV helped to groom me to become a CEO, founder, and owner, and they really helped me understand the business-side of my business. Until then, it was a lot of passion and commitment, but I didn't understand all of the back-office stuff."
According to Vanessa, her PCV business coach helped her to analyze and understand Culinary Artistas' finances, as well as how the business' revenues might fluctuate seasonally. Her coach has also been able to provide legal counsel, and PCV connected Vanessa with someone to assist her with marketing. Although Vanessa occasionally attends PCV's online events and workshops, she says she mostly takes advantage of her weekly check-in calls with her coach.
"Having PCV has really helped me to understand how to make the business sustainable," she said, "and how to grow it and to thrive in it."
Surviving a Global Pandemic (and Thriving)
With a business coach in her corner and Culinary Artistas doing better than ever, Vanessa's 2020 was off to a fantastic start. Culinary Artistas had 27 employees on its payroll, and Vanessa was considering opening a second location. She was even flirting with the idea of starting a subscription-model business aimed at parents and children wanting ingredients and recipes to prepare healthy food at home.
Then March came, and the COVID-19 pandemic made Vanessa rethink everything.
"Immediately, the business I had was dead," she said. "One week, our calendar was booked through June, and the next, everything was gone. I went from feeling on top of the world to feeling like everything was running through my fingers and there was no way to hold it together."
Vanessa wasn't just stunned, she was scared. She was also resistant to the idea of shifting her business online, given that cooking had always been something that she enjoyed doing in-person with others. However, after seeing how happy her daughter was after taking an online dance class, Vanessa changed her mind and gave her team the greenlight to move forward with online classes.
It was an immediate success. Vanessa and her team have hosted over a dozen team-building events with corporate clients, and in the past 30 days, her team fielded nearly 60 inbound inquiries. Culinary Artistas' online cooking classes are attracting between 30 and 50 kids per class, and over the summer, Vanessa and her team hosted a 12-week, in-person camp for over 100 students. Lastly, Culinary Artistas has sold almost 500 cooking kits, giving Vanessa an opportunity to begin to get her nascent subscription business off the ground. Amazingly, despite the global pandemic, Culinary Artistas' revenue is up 25 percent compared to 2019.
"The business looks very different than it did six months ago," she said. "We're just thankful to not only still be in business at this time but to be thriving. There's so much demand, and we're in a really great position as a business. I feel very fortunate."
With continuing business coaching and mentorship from PCV, Vanessa feels like Culinary Artistas can leverage its current momentum to continue to expand and evolve. As her business keeps growing, Vanessa wants to strive to take a page out of her role model's playbook: Alice Waters, of Berkeley's famous Chez Panisse restaurant.
"Alice really believes in creating a microenvironment of the people that work with her by elevating them," Vanessa explained. "So, for example, the person who used to be the baker at her restaurant later went on to create Acme Bread, and Alice invested in his business. That's something she's done a lot, and I think it's really beautiful."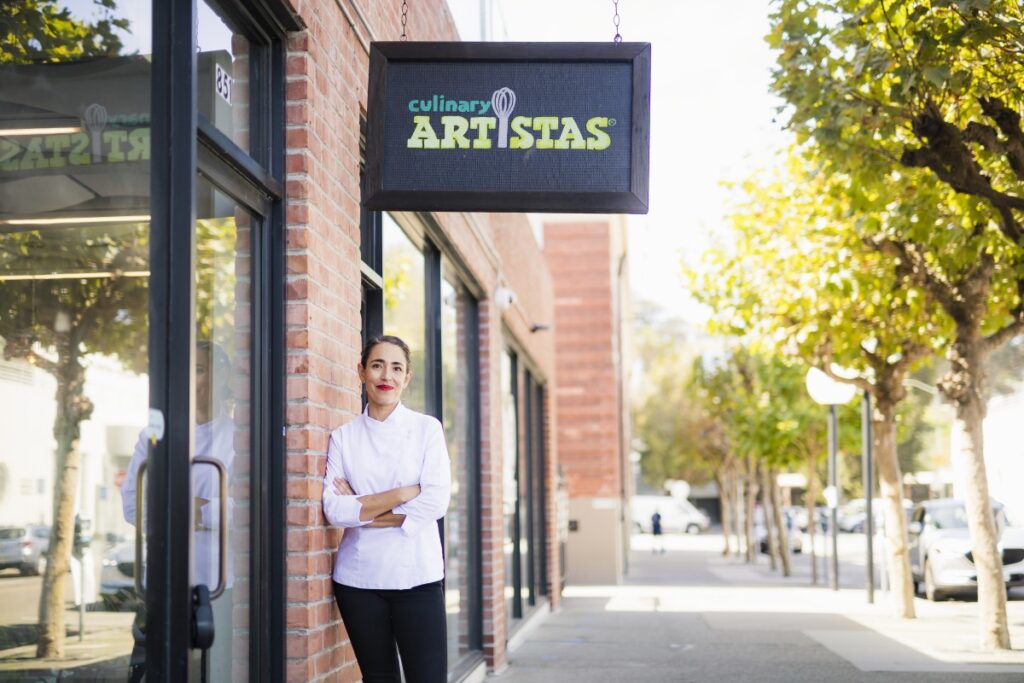 As Vanessa looks to potentially open a second Culinary Artistas location in the Bay Area, and as she ramps up her subscription business, she also wants to be sure that she's working with her employees to help them actualize their own professional goals, whether that's acting as an investor, a mentor, or a launching pad.
"In my experience," she said, "for a business to succeed, it really takes a strong team of people that supports you. I was the recipient of that kind of support, and it's something that I try really hard to do for my employees and for our students. This is a place where with the right kinds of role models and influences, you can go so much further, because you have people who believe in you and are ready to back you up."
Learn More
Pacific Community Ventures is an Oakland-based CDFI that empowers small business owners and helps impact investors make investments that create shared prosperity and sustainable communities through a "Good Jobs, Good Business" model." 
CNote – Interested in helping create another story like this? CNote makes it easy to invest in great CDFIs like Pacific Community Ventures, helping you earn more while having a positive impact on businesses and communities across America.