CNote co-founder Cat Berman spoke at Stanford University on October 25th as a part of their Entrepreneurial Thought Leaders Series. Cat's talk was about Embracing Your Otherness–an inspiring story about events that have shaped her identity and direction as an entrepreneur. It is the journey that ultimately led her to co-create CNote.
Cat Berman: Entrepreneurial Thought Leader
We're extremely proud of Cat. It's exciting to see her name on a wall of other great speakers that Stanford has hosted, including Rich Barton the co-founder of Zillow, and Anne Wojcicki the CEO of 23andMe.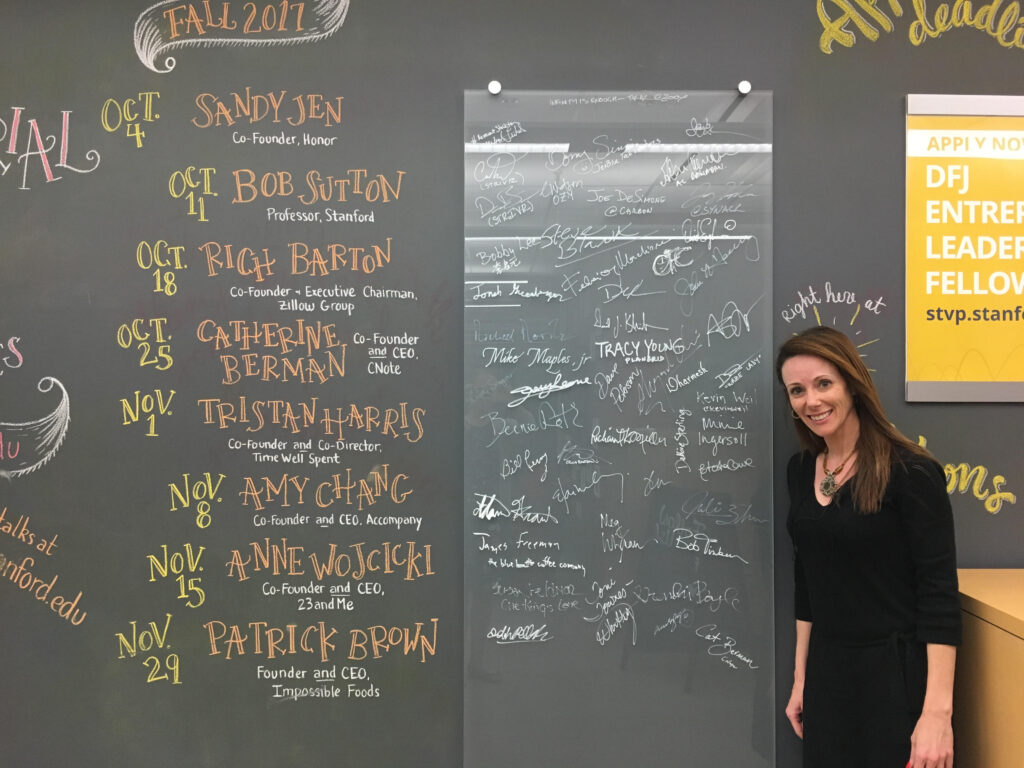 Embracing who you are
You can watch the entire fifty minute talk below. Additionally, you can listen on (stitcher) (iTunes) if you prefer breaking up commutes with podcasts. Cat's journey isn't one that is entirely unique to her, and that is what makes this talk so powerful. If you've ever struggled with that nagging feeling of being different, unsure which direction to head next, this talk is worth a watch.
The world needs more people that are willing to embrace their otherness–we are all be better for it. Its those brave few, who are crazy enough to think the world should bend to their vision, that can create real change.
Shorter clips from the talk
For those looking to get some of the highlights of the talk the following clips are a must watch.
This clip, about confronting sexism, is a truly great story crammed into a short video. Bravo Cat!
Here, Cat explores what it means to embrace your "otherness" and how not realizing that you do not fit a common mold can be empowering and help give you direction.
Finally, Cat talks about the journey that led her to creating CNote. Specifically, her discoveries about the world of finance and the power of money. If you want to understand what drives us here at CNote, this is a quick synopsis.
You can watch more clips at
Stanford's YouTube
channel.
Thank you Stanford
We are extremely grateful to all the faculty, administration, and especially students, who attended the talk. It was inspiring to hear students ask how they could get involved with impact investing, and to see them wait to speak with Cat after her talk.
We hope some of those young minds embrace their "otherness" and that it helps push them to take brave acts to shape the world in their vision and make it a better place.