We believe business can be a force for good.
That idea is embedded in our social mission of closing the wealth gap and building a more inclusive economy for everyone.
Our team thought it was only natural we formalize that commitment by becoming a Certified B Corporation®. Now CNote's commitment to profit with purpose becomes even more clear for our investors, members, and partners.
We're excited to join a growing list of companies that are working to build sustainable businesses along with a better world.
Some statistics about B Corps™:
There are over 2,600 certified companies
Covering 150 industries and 60 countries
B Corps were 65 percent more likely to survive the great recession in 2009
What B Corp Status Means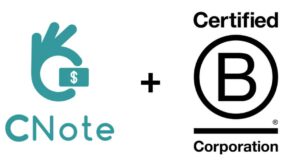 CNote was certified by the non-profit B Lab to meet rigorous standards of social and environmental performance, accountability, and transparency. That required us to evaluate how our practices impact our employees, our community, the environment, and our customers.
"Think of it this way: USDA certifies organic foods, and Good Housekeeping puts its seal of approval on quality products, like washing machines and skillets. And since 2006, a nonprofit organization called B Lab has been certifying corporations it deems to be concerned about their communities and the environment." – NPR
Certified B Corporations® are a new kind of business that balances purpose and profit.
They are legally required to consider the impact of their decisions on their workers, customers, suppliers, community, and the environment.
This is a community of leaders, driving a global movement of people using business as a force for good.
The entire CNote teams is excited to be a part of this movement!