CNote is an investment platform on a mission to close the wealth gap. Led by the belief that everyone deserves a shot at financial freedom and that each of us can play a part in building a more equal world, CNote uses financial technology to unlock investments in Community Development Financial Institutions (CDFIs). CDFIs are community lenders that create new and sustainable capital access in low income and low resource communities. By driving new dollars into high-impact, high-performing CDFIs with an emphasis on serving communities of color and female entrepreneurs, CNote has facilitated investments which are deeply impactful, drive positive social change, and generate competitive financial returns.
In early 20202, CNote crossed the milestone of helping to create over 3,000 jobs in America. This sort of impact is deeply rooted in our commitment to empowering individuals and communities with access to the tools they need to succeed as well as the commitment investors make to generating positive outcomes. CNote technology lowers the operational burden of investing across multiple geographies or themes to enable place-based targeting and make it easier for both funders and CDFIs to drive capital into the communities most in need.
In order to better communicate, report, and target impact, this year CNote has gone beyond the UN Sustainable Development Goals and created CNote's 26 Impact Themes. This new list of impact themes allows CNote to better target social outcomes while empowering investors with greater control of their funds. To substantiate the claim of impact, CNote will increase data reporting and transparency of impact goals and benchmarks to stakeholders while upholding the industry standard of impact measurement and quarterly reporting.
Despite the US being one of the most developed financial ecosystems in the world, a quarter of households in the country make little or no use of mainstream banking products. Several barriers have especially excluded underserved populations from mainstream financial tools.
Inclusive finance bridges this gap. We aim to support the organizations that increase access to financial services, delivered in a responsible and sustainable way, which will allow low‐income households and those previously underbanked to enhance their welfare, grasp opportunities, and escape poverty.
Median white American households are projected to own 86 times more wealth than African-American households and 68 times more than Latinx households. Significant racial disparities also exist in employment, educational attainment, access to healthcare, incarceration rates, and many other aspects of American life.
Supporting communities of color is essential to building a system where everyone truly has the opportunity to thrive and these disparities no longer exist. With the understanding that the investment industry is responsible for wealth creation and accumulation in societies, we aim to support and strengthen small business owners of color by partnering with community minded CDFIs to increase economic opportunity in communities of color, building family and community wealth, and increase economic inclusion overall. 
The official US poverty rate in 2018 was 11.8 percent, which represents 38.1 million people in poverty 
We aim to support partners that make financial products and services accessible and affordable for low-income individuals and businesses which serve those populations to help reduce persistent poverty, promote inclusive growth and economic self sufficiency, and build community resilience.
Some 567,715 people in the United States were experiencing homelessness on a single night in January 2019 during HUD's Annual Point-in-Time Count.  This homelessness epidemic is economically costly but more importantly costly to human life, mobility, and productivity especially so for people of color. 
We are committed to mitigating the immense financial and health burdens of homelessness that weigh disproportionately on low income and underserved communities by partnering with those that lend and work in that arena. We aim to increase access to essential services and financial opportunity, and help fund homelessness reducing programs, permanent assistive housing, and new access to affordable healthcare and education.
Economic Development and Mobility
More than 32 million children live in low-income families, and racial and gender wealth gaps persist. Social and economic mobility has stagnated and inequality, a recognized hazard for national economic growth, is rising.
We aim to support job and workforce development through our support of small businesses, fund sustainable and resilient infrastructure, and equip communities with financial technical assistance and education to achieve inclusive economic growth and create pathways out of poverty in communities across the United States with our CDFI partners.
Women and girls represent half of the nation's population and therefore also half of its potential, but women remain underrepresented. In the workforce they continue to be a minority on company boards and in the C-suite, and a US Census Bureau study found that compensation for women in the United States averages 21% less than for men holding comparable roles.
Gender equality is not only a fundamental human right and moral imperative but improving the lives of women and girls is important to achieving economic growth. We aim to provide women and girls with equal access to education, health care, decent work, increase lending for women-owned and led businesses, and representation in the economy to nurture sustainable communities by supporting the lenders that advocate for and advance gender equity.
In 2018 data showed that nearly 38 million households nationwide are paying more than 30% of their incomes on housing. Cost-burdened renters and homeowners in the bottom income quartile are forced to spend significantly less on food, health care, transportation and retirement savings than other families in their income bracket whose housing is affordable.The consequence of this affordability gap is costly for individuals, families, communities, and the economy.
Through our partners, we aim to fund affordable homeownership for low- and moderate-income borrowers and renters, invest in opportunities that promote affordable homeownership and access to rental assistance, and increase the financial resources available to underserved communities.
The most recent Census figures show that 47 percent of white Americans hold at least an associate degree. Degree attainment rates are far lower among communities of color. We know that college degrees, industry certificates, and other high-quality credentials create economic opportunity and increase social mobility. 
Education creates opportunities. Investing in education is among the most powerful ways to foster economic growth and development, higher productivity, employment and innovation. We aim to ensure that communities have inclusive access to quality education by partnering with CDFIs to provide school and educational financing, supporting companies involved in teaching, and increasing the number of educational facilities in communities. 
In the United States, about 11 million adults and 3.2 million adolescents were affected by major depression in 2017.  Living with a severe mental health condition can reduce life expectancy by 10 to 25 years. It also costs the global economy about $2.5 trillion per year in reduced economic productivity and cost of care. Despite this, more adequate infrastructure and services for mental health are needed to provide care for those with mental disorders and to protect and promote mental health.
Our aim is to help expand access to mental health services, increase access to medical facilities in low and middle income communities, and fund projects that service those dealing with mental health diagnoses through CDFI investment.
Empowering People with Disabilities
Twenty percent of the U.S. population– approximately 60 million Americans–identify as people with mental or physical disabilities, making it the single largest minority group in the country. People with disabilities have limited access to high quality medical care, experience higher rates of poverty, have additional personal costs associated with everyday life, and face barriers to education and employment that limit their earning potential and financial mobility.  
We aim to improve and expand the system for addressing a historically underserved population by providing access to financing and services for people with disabilities through community lenders. Our goal is to pursue solutions that promote independence for those with disabilities.
Today, workers of color are overrepresented in the lowest-paid agricultural, domestic, and service vocations and have the least job security. Workers of color, especially women of color, also receive lower wages and have less access to paid sick leave and paid leave for child care than white workers. For communities of color, the labor market is unsteady when the economy is strong and extremely hazardous when it is not. Additionally as the job market is increasingly automated low to middle income jobs are in greatest jeopardy.  
We aim to spur growth by investing in the CDFIs that support small businesses with the potential to create good jobs which provide income above the minimum wage, health benefits, and training opportunities for workers.
Refugee Crisis and Immigration Issues
There are currently more than 65 million displaced people in the world, the highest number on record since the UN Refugee Agency (UNHCR) began collecting statistics – surpassing even post-World War Two numbers. More than 44.7 million immigrants lived in the United States in 2018. That's 14.4% of the U.S. population. 
Economic Inclusion is assisting and supporting the process of bringing targeted groups, individuals, and communities, including immigrants and refugees, closer to the economic mainstream and capital markets. We aim to facilitate a more diverse and sustainable skilled jobs market, housing, and essential services for refugees and immigrant communities in America by streamlining investments with CDFIs that share our same goal.
Natural Disaster Recovery
In 2020 (as of July 8), there have been 10 weather/climate disaster events with losses exceeding $1 billion each to affect the United States. Research findings reflect a world in which people of low socio economic status are the most vulnerable in the face of these disasters and are more likely to suffer more serious consequences during impact, from property damage to homelessness to physical and financial impacts. CDFIs have traditionally been the first responders to these crises for these populations. 
Our aim is to enable more communities to recover from the physical and financial damages associated with natural disasters quicker as well as build resilience in the face of natural disasters down the line with increased access to financial services and education, funding for the creation of climate-resilient communities, and post-disaster lending. We hope to do this by supporting CDFIs so they can fulfill their role as first responders.
Disasters have strongly increased in both frequency and impact, with climate change as one of the main contributors to more extreme, frequent, and unpredictable weather. Of the most recent five years on record — from 2014 to 2018 — the United States has seen an average of 13 billion-dollar disasters every year. Typically communities hardest hit by financial and natural crises are also those previously underserved and low income
Resilience is the ability of a system to absorb disturbance and still retain basic function and structure. We aim to keep communities resilient by fortifying CDFIs that spur growth through the creation of jobs, quality affordable housing, schools, transportation and sustainable infrastructure.
In a 2017 survey conducted by the Federal Reserve, 40 percent of adults reported they would be unable to cover an unexpected $400 expense without selling something or borrowing money. In a recent survey from EVERFI, 53 percent of college students reported they felt less prepared to manage their money than to face any other challenge associated with college. Providing equitable access to personal finance education is perhaps more important to equip communities with the tools to navigate unemployment, financial and natural crises, and wealth generation. 
Our aim is to support increased access to a variety of technical assistance programs by financing our community partners that offer programs that including credit, financial, and homeownership counseling, that will help anyone to navigate their financial needs.
Workforce Development and Retraining
At the start of 2019, 7 million U.S. jobs remained unfilled, and American employers consistently cite trouble finding qualified workers. This "skills gap" represents a massive pool of untapped talent, and it has dire consequences for economic growth and generational inequity.  
Our economy is only as strong as its workforce. High-quality workforce development and training can help workers get good jobs, improve the efficiency of businesses, and boost productivity in the economy. Our aim is to support the growth of America's workforce by partnering with lenders that fund small business development, job training programs, and investing in the development of qualified workers by providing resources for education and financial wellness.
Climate change is accelerating. The tell-tale signs and impacts of climate change – such as sea level rise, ice loss and extreme weather – increased during 2015-2019, which is the warmest five-year period on record. Climate change is one of the most serious and threatening issues facing the world today and will continue to present food and water security concerns, it will destabilize agricultural economies and communities, and will reverse decades of progress out of poverty for millions of people. 
Low income and neglected communities are the most vulnerable to these events and typically have few tools to manage risk, lack sufficient support systems, and lack savings to fall back on in times of crisis. Our aim is to support the creation of climate resilient communities, and help prepare communities and businesses with the financial resources needed to ensure food, housing, and economic security in the face of climate change by supporting CDFIs in underserved regions.
Social and Economic Justice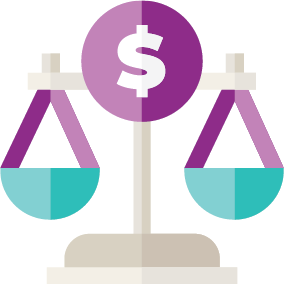 Systemic inequity has perpetuated disparities across racial, ethnic, and socio-economic lines in our education, health, human service, economic, and criminal justice systems. For us, justice means expanding opportunity and correcting the imbalances we have seen throughout history by giving communities to control their financial achievements. 
New access to financial services unleashes the potential of  entrepreneurs and helps to break cycles of poverty and oppression, empowering individuals, families and communities. Our aim is to expand access to economic resources and empower individuals and communities historically neglected with the financial access needed to grow and thrive. 
Closing the Gap Between Rural and Urban
Compared with urban areas, rural populations have lower median household incomes, a higher percentage of children living in poverty, fewer adults with postsecondary educations, more uninsured residents under age 65, and higher rates of mortality, as reported in 2017.
Expanding inclusive economic opportunities for rural Americans is vital to the livelihood of these communities and the future of our economy as a whole. Our aim is to focus on the untapped potential of rural areas and assist the CDFIs there working to expand healthcare and education access, ensure financial services are available to rural communities, and fund the growth of new businesses which in turn will fuel job creation.
Clean Water and Sanitation
More than 30 million Americans lived in areas where water systems violated safety rules at the beginning of 2019, according to data from the Environmental Protection Agency. Others simply cannot afford to keep water flowing. As with all environmental and climate issues, low income people and communities of color are hit hardest. 
Beyond negative health outcomes, unsafe drinking water can pollute the environment, negatively impact local economies, and exacerbate the burden of poverty. We aim to help support communities by partnering with lenders that are expanding access to clean drinking water nationally and by funding sustainable improvements to the currently aging water infrastructure in many communities throughout the US.
Widening economic inequality in the United States has been accompanied by increasing disparities in health outcomes and healthcare access. The life expectancy of the wealthiest Americans now exceeds that of the poorest by 10–15 years. Access to quality, affordable healthcare is a universally acknowledged human right. A lack of access prevents individuals from being healthy, productive members of society and thwarts community development.
We aim to partner with those that increase quality healthcare accessibility and affordability for low income and under-served communities, fund the creation and maintenance of healthcare facilities, and support innovations in the healthcare space that increase access to health services and products.
Improving the Lives of Underprivileged Children/Families
Without a full-time parent caretaker, families with children under the age of 5 typically spend an average of 10.1 percent of their household budget on child care. The burden on low-income families is especially heavy—families making less than $1,500 a month who pay for child care for children under the age of 5 spend on average 52.7 percent of their income on these expenses. Additionally, early childhood care and education have far reaching implications for educational achievement and socioeconomic status later in life.  
Early childhood investments have the potential to address a growing economic inequality and the diminishing rate of upward mobility in the US. Our aim is to invest in the lenders that help expand access to preschool and early learning to support pathways through the educational system, improve access to essential services for children like healthy foods and medical care, and fund childcare support for low income and working families.
Much of the recent economic revival seen in some of the nation's largest urban centers has not been seen across the board: many communities remain unchanged. In every major American metropolitan area, including many of those that have prospered most since the 2008 financial crash, huge gaps still separate white people, people of color, and the low income—not only in terms of average hourly wages, but in terms of educational attainment, health outcomes, employment, accessibility, and affordable housing. 
Community Revitalization is the implementation of intentional efforts that are likely to lead to community development and reduce these gaps. The result is increased access to employment, living wage jobs, healthcare, supportive services, community amenities, transportation, and quality and affordable housing.
Our aim is to support CDFIs making efforts to build stronger neighborhoods, business districts and anchor communities by funding America's small businesses, investing in resilient infrastructure, and building out community facilities, community health, and community education with the intent of closing these gaps for good.
Global agriculture commodity prices have been on the rise since major innovations in the farming industry has lead to substantial gains in food production. The rising prices of food and agriculture has since exacerbated the social inequities in food access and environmental impact of unsustainable and polluting growing practices. As the world population continues to grow at an alarming rate, a projected 9.7 billion by 2050, and as we continue to fight to raise people out of poverty its paramount to invest in smarter solutions.
We aim to fund the CDFIs supporting innovation to safely and sustainably produce more agricultural output to feed the nation and protect our environment. This includes helping small farmers align their agribusinesses with sustainable standards, support water conservation, and spreading increased awareness of alternatives that improve the extended supply chains of commodities which have negative social and environmental impacts.
Responsible Consumption and Production
As increased wealth has coincided with dramatic improvements in the standard of living, the system of consumption and production to satisfy the growing population has strained the planet's finite supply of resources. In 2015, almost 12 tonnes of natural resources were extracted per person. The transition to sustainable consumption and production of goods and services is necessary to reduce the negative impact on the climate, the environment, and people's health the current rate of consumption and disregard for its planetary effect is having. Achieving this sustainable development and maintaining economic growth requires that we urgently reduce our ecological footprint by changing the way goods and resources are produced and consumed.
We aim to reduce our environmental impact, promote the use of renewable sources of energy and encourage responsible purchasing decisions by providing capital to community lenders that can instill these values in their communities.
Affordable and Clean Energy
Despite its necessity, Americans in low-income households, communities of color, small towns, and many rural areas do not have equal or affordable access to reliable energy. What's more, the environmental cost of producing and delivering energy — the pollution of our air, water, and ground — tend to be concentrated in some of those same places.
Inclusive growth in America is a benefit for all, and reducing environmental pollution is an international imperative. Our aim is to mitigate the negative emissions of the energy sector by supporting the CDFIs leading green energy innovation, expanding access to affordable, reliable, and sustainable energy, and enhancing national cooperation to facilitate more open access to clean energy technology.