Growing up in the Dominican Republic, Clara Olguin was passionate about many things: music, dance, theatre, and justice. She even has a law degree from the Dominican Republic and a bachelor in Music Management/Voice from Georgia State. However, it wasn't until the early 2000s that she became passionate about floors. And not just dance floors.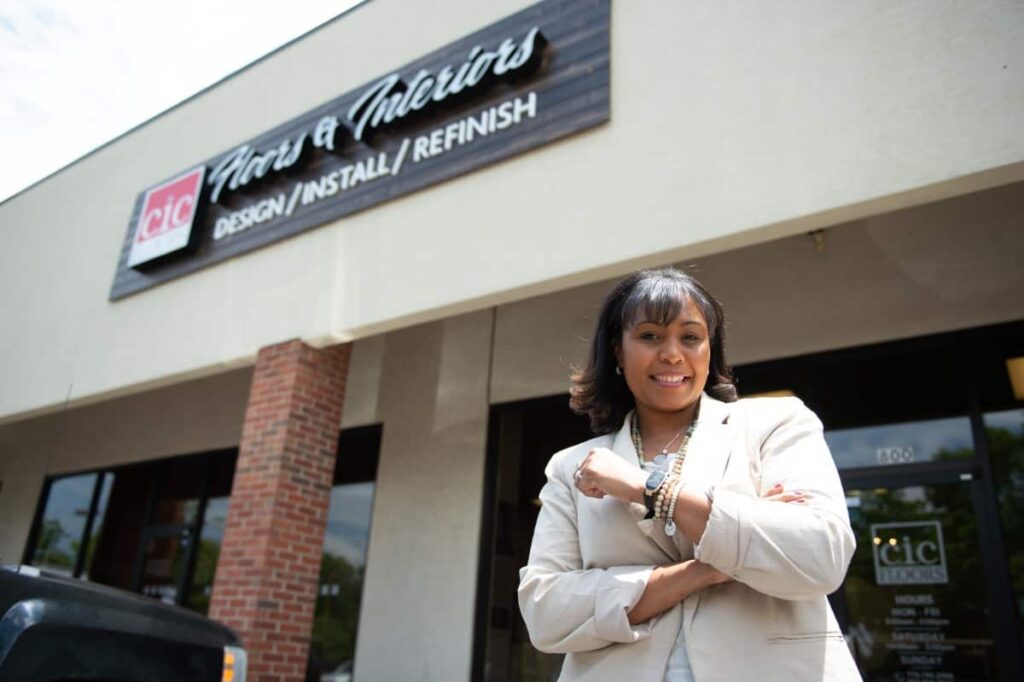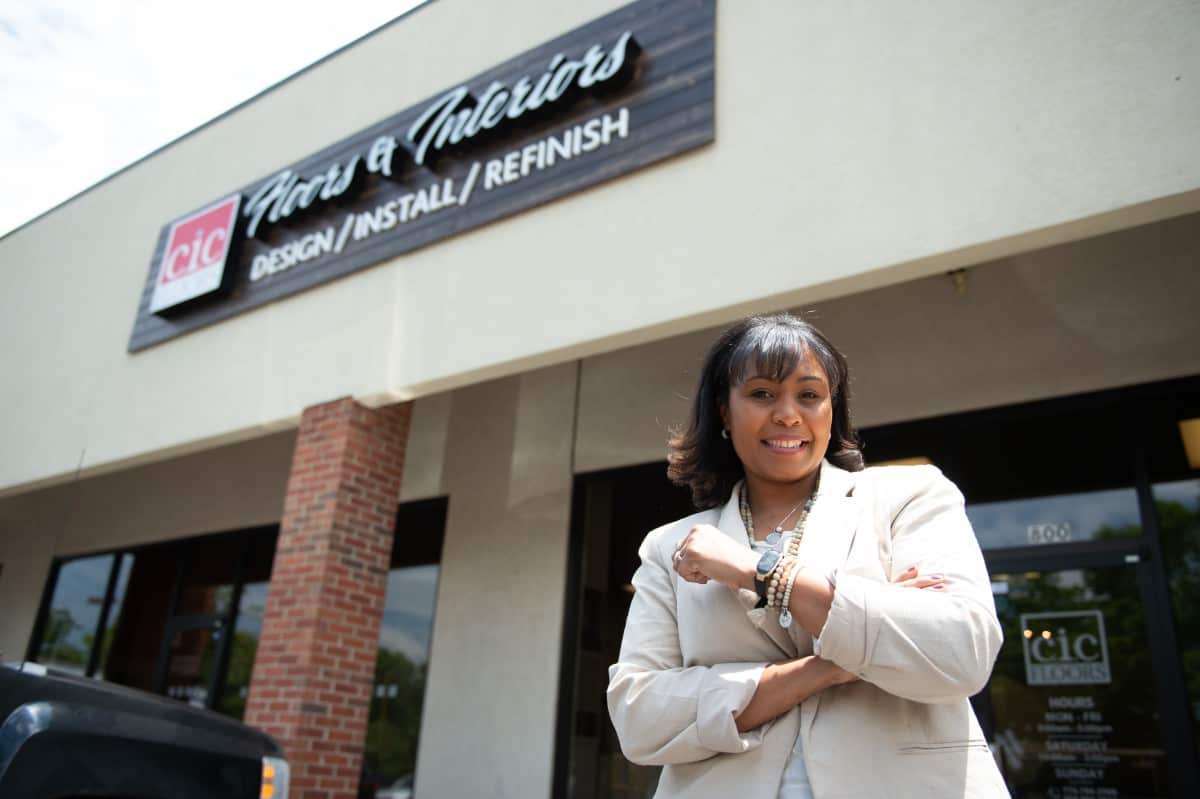 While Clara was out promoting her annual music show Vivelo! (Live it!), Olguin met her future husband, Cesar, who worked in the flooring installation industry. "You dance salsa on good floors," Olguin laughed. A year later, the two wed, and as the couple started to grow their family, they simultaneously decided to grow their family business, CIC Floors, which Cesar had founded in 2003.
The Path To Growth
Five years ago, after years of primarily doing installation work, Clara and Cesar decided to open a showroom; however, several banks weren't willing to approve their loan application. That's when a friend referred the couple to Access to Capital for Entrepreneurs (ACE), an Atlanta-based Community Development Financial Institution (CDFI). CNote partners with CDFIs like ACE in communities across America, funding loans to small businesses and empowering local entrepreneurs like Clara and Cesar.
ACE helped CIC obtain a small business loan to rent a small space for its showroom, and two years later, CIC received a second loan from ACE that helped triple the company's revenues.
Although Olguin credits ACE with allowing CIC Floors to open its first showroom and to grow, it didn't take long for the small business to outgrow the tiny warehouse space. "We were grateful for the opportunity and trust and money ACE gave us," she said, "but the showroom was packed, and we didn't have space to receive all of our customers. We had people waiting outside. Once one client would leave, another could come in."
More so, as the company continued to get bigger and bigger, it also began to expand its offerings, from carpeting to tile to wallpaper. Plus, as the sustainability movement continued to gain momentum, CIC began fielding more requests for eco-friendly products, and more and more designers asked to bring customers into the store for consultations. "The store was just too small," Olguin said. "We needed a new location."
Building On Their Vision
Clara and Cesar found a new space on Peachtree Industrial Boulevard, in Norcross, Georgia and started developing designs for the new showroom. Once again, ACE stepped in and helped CIC Floors get the funds it needed to take its next step as a small business, and last year, CIC opened its new 6,000-square-foot location as a one-stop wall and flooring destination for customers, designers, architects and builders. In honor of their roots, the couple brought in flamenco dancers into the store to celebrate their grand re-opening.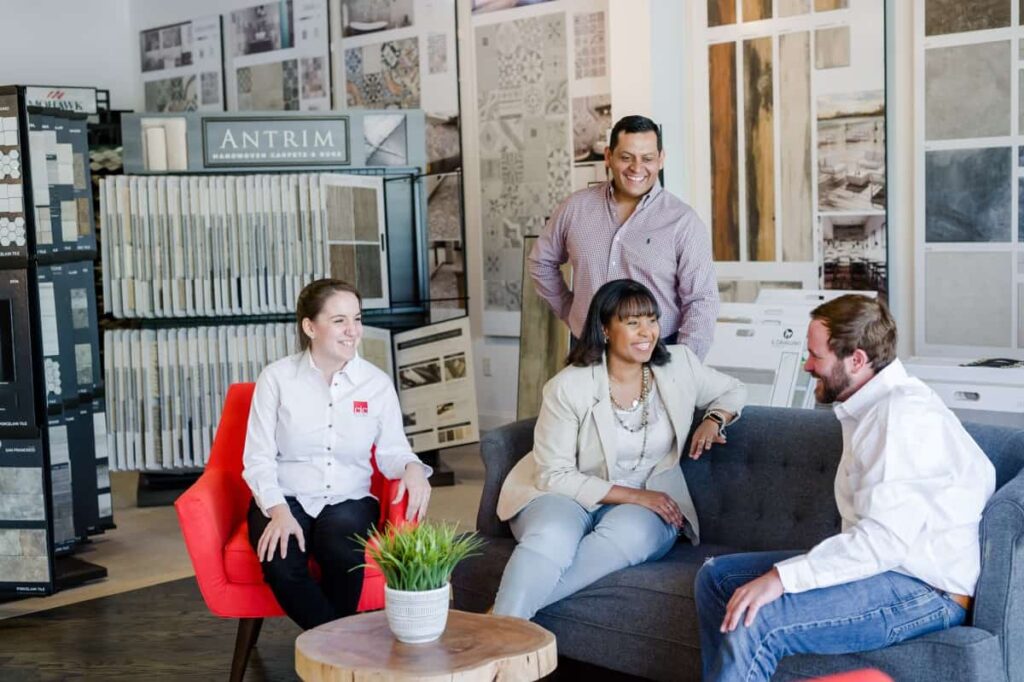 Olguin says the new showroom is a dream come true. And business is booming. Whereas CIC Floors hit its first million right before opening the new store last year, it's increased monthly sales from $55,000 to $91,000 since opening the new showroom. According to Olguin, it's also attracting clients with larger budgets than at their previous store. The increased revenue is allowing Clara and Cesar to expand CIC's team. The two are looking to add two more employees to their staff of three full-time and two part-time employees, in the near future.
"For me and my husband, creating floors and supporting our clients in their home renovations or building their new home should be a celebration," Olguin said. "This is the place where you will dance as a couple, where your kids will play, and where your pets will lie down. Floors are the foundation of your home, and they have to be a special place."
Given Olguin's celebratory outlook on the products and services CIC provides, it's not uncommon to see customers, clients and designers walking around the showroom with a glass of wine or a mimosa as they compare tiles, color palettes, and flooring options. "We have a lot to offer," she said, "and we don't care as much about the number of sales we get as we do being able to offer one-on-one relationships with customers. The numbers are important to us, but the relationships are more important."
Help From A Trusted Partner
Olguin's confidence is rooted in ACE, which provided CIC with access to both a "marketing guru" and a finance expert. ACE also helped CIC acquire multiple business certifications, including Minority Business Enterprise and Women's Business Enterprise certifications, and the CDFI nominated CIC to be a part of The Georgia Mentor Protégé Connection and later the Goldman Sachs 10,000 Small Businesses program, from which Olguin recently graduated.
"I cannot say enough about the networking and connections ACE has made for us," she said. "Because of them, we got into the Goldman Sachs program, and they helped us to further develop our business and to forecast our growth for the next five years. That's why I feel so confident today. I know where I'm going. I know where we're heading."
Next Steps and Giving Back
Clara and Cesar's long-term goals for CIC Floors are centered around their five-year plan, which includes supporting their clients, offering exclusive product lines, growing the business, and supporting the community. The company already donates a portion of its annual earnings to various causes, including the Jeannette Rankin Foundation, Georgia Goal Scholarship Program, Inc., and Children's Healthcare of Atlanta. However, going forward, CIC's owners want to explore opportunities to support the flooring installation workforce through classes and trainings, especially for non-native English speakers and refugees. "To us, being a part of our community and giving back makes sense to us," Olguin said. "It's who we are."
Learn More
Access to Capital for Entrepreneurs (ACE) – ACE is an SBA Microloan Intermediary, a USDA Intermediary Relender and a certified Community Development Financial Institution (CDFI).
CNote – Interested in helping create another story like Clara and Cesar's? CNote makes it easy to invest in great CDFIs like ACE, helping you earn more while having a positive impact on businesses and communities across America.