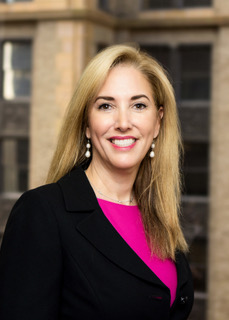 Change Makers Interview: Leslie Goldman of The Artemis Fund
Slowly but surely, Leslie Goldman is helping to change the face of Venture Capital (VC). After more than 25 years as a corporate lawyer and three years recruiting C-suite legal executives, Goldman started The Artemis Fund with Diana Murakhovskaya and Stephanie Campbell. It's one of a handful of female-led venture funds that exclusively invests in female-founded, female-led companies in the United States. The VC fund is based in Houston, Texas, and Park City, Utah, and it invests in tech-enabled seed and series-A-stage companies.
Leslie became a dedicated angel investor in 2014, and in the past five years, she's invested in over 40 companies. Additionally, she's a board member of the Houston Angel Network, an advisor to two other VC Funds, and she serves as an advisory board member to early stage companies.
We took the opportunity to catch up with Leslie to talk about the creation of The Artemis Fund, the future of the gender funding disparity in VC, and her advice for female founders and investors.
CNote: How did you decide to create The Artemis Fund?
Leslie Goldman: I started angel investing in earnest a little over three years ago, and I had been dabbling in investing in startups before that. Over the past three years, I've made investments in 44 companies. The more I became interested in the angel investment scene and startup scene, the more I realized the scarcity of women on both sides: the funding side and the founder side. I came to the realization that there were plenty of talented female founders out there, but they weren't necessarily getting into the accelerators and incubators and pitch competitions and demo days. I wondered why that was, and I decided that I wanted to try to change the numbers by aggregating money and starting a fund. I met my two partners about a year and a half ago, and we all had the same desire, which was to fund more female-led companies. We decided we were going to raise a $20 million fund and we were going to invest in at least 15 female-led, female-founded/co-founded, companies.
CNote: How have things been going so far?
Leslie Goldman: We were right in that there are a ton of talented female founders. We launched in April and we started our fundraising in earnest in May, and since then, we get about 300 inbounds a month. There are so many in our pipeline right now that are worthy of investment, so we're just itching to raise more so that we can invest in these amazing companies. It's part "if you build it, they will come," and it's part network effect. Fellow VCs send us female founders because they know that's what we're looking for, female founders find us because they know that's what we're looking for, and female founders send us other strong female founders because they tend to help each other out. That's the power of the female network.
CNote: What are your vision and goals for your fund?
Leslie Goldman: The overarching vision is to demonstrate that investing in women makes good business sense.  As an asset class, female founded companies out-perform once they receive money, yet they are largely overlooked.  Money is being left on the table by traditional VCs. I think people will have a real "aha moment" when these funds that are focused exclusively on female founders demonstrate outperformance.  Mr Wonderful won't be surprised.    I think investors will start to say, "oh, maybe we should consider gender diversity as a key factor in selecting a company." So, from a macro perspective, we want to outperform with our fund.  Long term, we want to close the funding gap and ultimately, get to the point where we don't need separate funds for men and women. It would be nice to have the funding fall 50-50 to male/female founders, regardless of where the money is coming from. I think we're a fair way off, which is why we're doing what we're doing — why we're intentional about it.
As for specific goals, we want to find companies that have exit potential within 5-7 years, for the most part, since we want to deliver returns to our investors in the mid stage of the fund to the extent feasible.   A recent Pitchbook and All Raise article included data on exits by female founders.  They found that companies with women on their founding teams are likely to exit at least one year faster compared to the rest of the market, and the number of exits for companies with at least one female founder is growing at a faster rate YoY than exits for companies with only male founders.   Exits are a key metric for VCs, and all investors for that matter.
We ideally would like returns along the way so that we can show traction. So, we're being very thoughtful about the founder and the product market fit, which are the two key factors for success/failure. The founder has to be amazing:  gritty, persistent, driven; the customers have to love the product, and there needs to be a huge market opportunity.
CNote: How do we get closer to that 50-50 gender split sooner rather than later?
Leslie Goldman:   A few focus areas:  (i) increase the number of female funders and VC decision makers; (ii) raise awareness, as we are doing with social media, press, networking, (iii) educate the male dominated VC world about the problem, about the network effect (ie that their deal sources look like them and therefore the companies they find will look like them), and about unconscious bias, (iv) continue to see female founder success, and (v) educate more potential female funders.
CNote: Can you talk about some of the challenges that female founders face with VCs?
Leslie Goldman: To be a female founder, you have to be pretty tough skinned. It's not that the female founders that we interact with are scared to contact male VCs; it's more about them feeling like   they are not being heard — they are tired of banging their heads against the male VC wall and not getting traction. Most women out there know about implicit bias, and men are starting to learn. If you are a male VC, your deal source network is male. So the warm introductions come from men, usually leading to male founders.  If your portfolio of male founders is doing well, why change the way you source?  That's what you know.  If it's working, then no need to change your lens and look at the other half of the population.
We've heard all kinds of stories from female founders. Like the first comment out of VC's mouth to one was "you're so pretty, why are you doing this?" things that they would never say to a man. Or "you women look great up there." Those kinds of things are non-starters. That's not even implicit bias, it seems a little bit more conscious. Those are the same people whose eyes glaze  over when I stand up in front of a room to talk about diversity, because they don't see the need for us to focus on it. Those are the types of people that go, "Whoa! Why do you need a women's group? Why can't we have a men's group?" So yeah, I hear stories and things that are pretty hard to believe.
CNote: Is it some of those underlying biases that led you to want to start your own fund?
Leslie Goldman: When I started looking at the numbers, and the data showing that women truly outperform when given the chance, and I understood how few dollars, in relative terms, were going to female founders, that's really what pushed me. And then the fact that I was often the only female investor in the room most of the time. It frustrated me.   I can relate to the stories the founders have when they are presenting to a room or a panel of men. I've been part of enough teams at all levels of an organization to know the hurdles that we have to overcome in group dynamics or when presenting. I guess I went from trying to tackle the gender inequality issues that we have in the workforce at the C-Suite level in megafirms, to tackling it from the very beginning of the continuum — in startups.
CNote: If you had a magic wand and could change one thing to address the issue of women representation in tech, what would it be?
Leslie Goldman: I would just like to see more women in the investment community, because the purse strings are what creates the power. Since women control something like 75 percent of personal wealth, I would like for women to really understand the landscape and to use that control and not to shy away from it.
CNote: What are some trends you're seeing that are affecting the velocity of change of empowering more women to become investors?
Leslie Goldman: As we develop more female founders, they are starting to put their money toward other female founders, and that's where the biggest movement is coming from. From a founder standpoint, there's a lot more interest in getting the other half of the population involved in innovation, because there's so much more to innovate and so many more products that women need that are yet to be discovered. I think you need women to solve those problems, and so there are more women founders who are coming up through the ranks, and they're starting to reach their hands back and put their money into other women founders. I think that's why you see more funds trying to focus on getting women investment partners, and more funds are trying to focus on female-led companies. It feels like there's a movement, and it feels like now is the time that we're at a big inflection point.
CNote: What suggestions do you have for female founders who are seeking funding and/or mentorship?
Leslie Goldman: There's no one formula for it, but I'm a networker, so it seems natural to me that the more you network, the more you learn. You have to be inquisitive, you have to ask questions, and you have to listen to people. I think if you do that, you'll learn a ton, and then you'll figure out exactly where to go and exactly who might be the right people to pitch to. When it comes to accelerators and incubators and the thousands of venture capitalists out there, you have to do your research. You have to know who they like to invest in, understand their focus, and see who is on their investment committee. Talking to other female founders is the best way to do it, especially a female founder who you trust and who has had success.
CNote: As an investor, what's something maybe unexpected that you like hearing from a founder?
Leslie Goldman: "I may be too early for your fund because my product is not in market, but I would love to just keep you updated on my progress. Is that okay?"  I always say "yes." If they are self-aware enough to know that they're not ready for us, that's fantastic. That's a good sign. It shows they've done their research.
CNote: Do you have any suggestions for people who might want to invest in a startup but haven't invested before?
Leslie Goldman:  I think there are three ways to go about it. One is to invest in a fund and get educated about investing that way. You'll get 15 companies for the price of your investment, and you'll get to watch them grow. That's one way. The second way is to make micro investments through a small nationwide organization like Portfolia or Golden Seeds. The third way is to join a syndicate and become part of an angel network. You'll get to watch companies pitch and then slowly get involved by talking to your co-investors who are at these pitches, doing the diligence with them and then making smaller investments until you get comfortable.
One thing you have to remember is that it will take a long time to get your money back to see a return, so one of the things I think may be helpful for people to know is they can use their IRA funds. It's very powerful. Most people aren't expecting to use their IRA funds right away anyway, so it might be a really good vehicle to fund a long-term investment.
CNote: What advice do you have for founders looking for investment dollars?
Leslie Goldman: Founders need to understand that their investors are going to be married to them for 10-plus years, and they have to be picky in terms of who invests in them. Female founders sometimes have less opportunities, but if a female founder has a great idea and a great product in the market, if she has traction, and if she has a great team, then she's going to have people bang her doors down to try and invest in her. Sometimes you don't have a choice with who wants to invest in you, but when you do, I would just suggest you be careful as a founder.
CNote: Who do you admire or think is doing really great work that's similar to yours?
Leslie Goldman:  Of course there are the obvious famous women moving the needle like Melinda Gates, Serena Williams, Sallie Krawcheck and others. Then there are some incredibly generous women giving their time and expertise to women all over the world, such as Alicia Syrett.  As for organizations that educate and empower, I am grateful to the founders of All Raise, Golden Seeds, Portfolia, Springboard Enterprises  — they have all been pioneers in this area.  I'd love to give a shout out to all these people who try to move the needle and empower women.
Leslie is General Partner and Co-Founder of The Artemis Fund, one of a handful of female-founded and female-focused VC funds in the US.  Evidence shows that female-led (diverse) teams deliver higher value and returns, yet the gender funding disparity continues. With its focus on high growth, high-impact, seed and Series A stage companies, the Artemis Fund seeks a triple bottom line – returns for investors, the community at large, and for women.