CDFI Loans Fund Capital Needs Survey: Why and What's Next? 
The CNote CDFI Loans Fund Capital Needs Survey supports a data-driven approach to investing in communities.
What is the CNote CDFI Loans Fund Capital Needs Survey?
CNote seeks to empower investors to make informed decisions and target investments where the need is greatest. To specifically assess and catalog current and expected needs for CDFIs, CNote has undertaken a bi-annual CDFI Loans Fund Capital Needs Survey to make CDFI-data easily accessible. 
Community Development Financial Institutions ("CDFIs") are private organizations fully dedicated to principled, affordable lending that enables under-resourced individuals and communities to participate in the economic mainstream. 1
Their commitment to keep capital flowing into communities is crucial to ensuring healthy local economies. The need is great. The data to drive investment is the missing piece.
The initial CDFI Loans Fund Capital Needs Survey, published in Spring 2021, polled 52 CDFIs across the country (around 10% of the existing CDFI loan funds in the US) about their capital needs and expectations. The data collected included the amount of capital the CDFIs hoped to deploy, optimal interest rates, segments that are underfunded and underserved demographics. 
Why This Survey?
The goal of the survey is to give investors an understanding of the landscape of opportunities in the CDFI industry so they can make data-driven decisions and increase impact. Additionally, it provides useful benchmarks for growing and emerging CDFIs as they assess the price of capital and other concerns. 
Bridging the knowledge and opportunity gap between investors (large and small) and the options to invest in CDFIs is the best way to align expectations among investors and CDFIs. The result should be increased investment in the CDFI industry, as investors and partners better understand demands and opportunities. That means more crucial dollars to local businesses, first-time entrepreneurs and homeowners and jobs created in underserved communities across America. And more investment in women and people of color. When it is needed most.
What the Future Holds 
CNote will continue to commit resources to the CDFI Loans Capital Needs Survey and provide more data about CDFI capital needs to drive efficient and high-impact investing decisions. 
The CDFI Loans Fund Capital Needs Survey will become a longitudinal study (with discrete findings as well), with bi-annual reports released in mid-April and mid-August every year. CNote will devote resources to growing the number of respondents and continue to chart the expanding landscape for investors and CDFIs alike. 
Because the industry is diverse (some CDFIs only originate small business loans while others focus on affordable housing or other priorities), an integrated snapshot of trends may help investors refine baseline expectations for impact investing that meets their goals. 
A Reliable Source for Investors
By capturing longitudinal data around how capital needs evolve and identifying areas where investments are needed, CNote hopes that the Survey becomes a reliable, information-rich source for investors to consult. 
Some of the ways the Survey can support investors and other entities are by: 
Enabling investors to make better allocation decisions by providing timely, relevant and up-to-date data.

Educating new CDFI investors about the state of the market and how to work with CDFIs. 

Highlighting areas for investment and hopefully filling gaps by driving capital towards them.
For example, according to the initial findings:
The most underfunded groups according to responding CDFIs: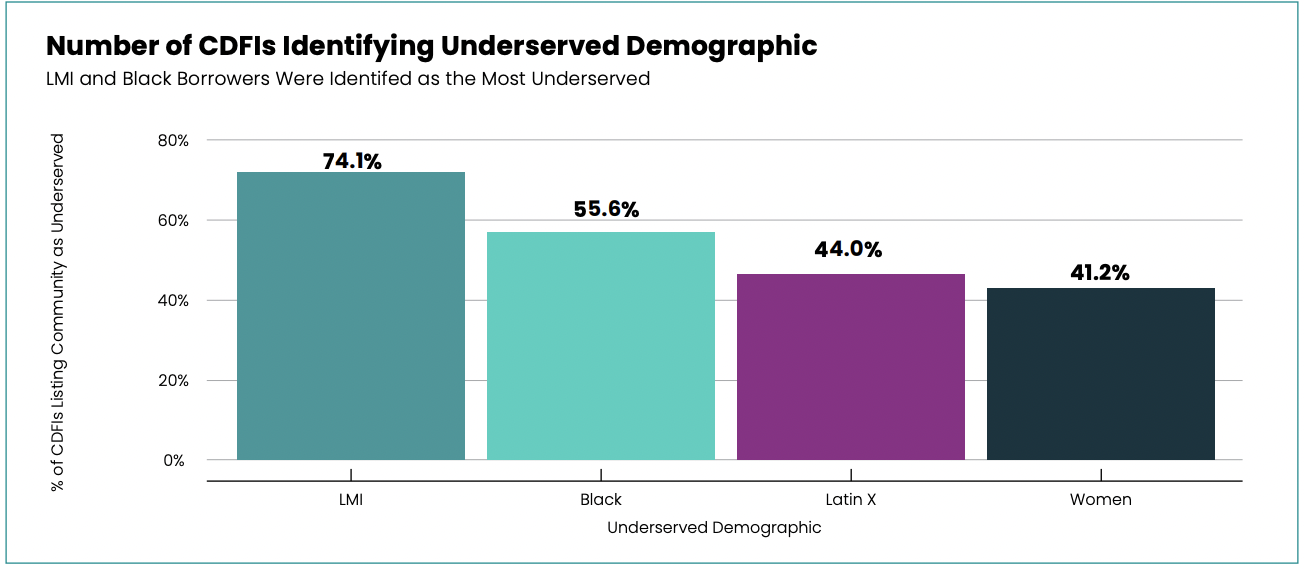 74% Low-to-Moderate Income (LMI) borrowers

55% Black borrowers 

44% Latinx borrowers 

41% Women borrowers
The most underfunded segments according to responding CDFIs:
55% affordable housing lending 

39% small business lending
The hope is that this data will encourage investors to commit more capital to these groups and segments. 
Providing a robust data set that could have utility outside of investment such as informing policy decisions, government funding, and awards programs.

Demonstrating the nature of CDFI funding, whether static or evolving, and how broader economic trends may impact community lenders. 
What's At Stake?
Economic and racial justice can be furthered through enlightened investment. Job creation, funding of BIPOC-owned small businesses and support for affordable housing development can make a significant difference in leveling the economic playing field. 
That's why CNote is doing the work on the CDFI Loans Capital Needs Survey, to increase the impact of impact investing.