For many people, a cancer diagnosis can derail them. For Ethel Brooks, it ignited her. It was January 2017 when Ethel learned that she had breast cancer. Her mind instantly concocted the worst-case scenario, and her first thought was about what she was going to leave behind for her three daughters and seven grandchildren if something happened to her. However, the moment she found out that her chances of surviving were high, she chose to fight like never before. "When I saw that I was going to live," she said, "I took off like lightning. They say cancer breaks people, but cancer gave me strength and made me look toward the future. I wasn't gonna let it take me down because I have too much to live for."
Ethel went through 21 weeks of chemotherapy; yet, she didn't let that keep her from her day job at Franklin Primary Health Center in Mobile, Alabama, where she was hired in 1986 as a 20-year-old Medical Receptionist. Over the years, Ethel has skyrocketed up the ranks, with stints as an intake clerk, accounts receivable, office manager, operation manager, and most recently, billing supervisor.  Amazingly, Ethel would do her chemotherapy on Mondays, and she'd be back in the office on Tuesday to finish out the rest of the workweek. Eventually, after the hair loss, a double mastectomy, and seven surgeries, Ethel triumphed over cancer with the support of her mother, eight siblings, and daughter Darralyn, who surrounded her with love and support throughout her treatment. Additionally, the fight helped her to realize that she needed to start thinking about how she could create a financial legacy to pass down to her family when the time came.
That's when Ethel partnered with Mr. William McGlasker, a local contractor and concrete specialist, to start her own business. She'd met Mr. McGlasker at Franklin Primary Health Center, after which he'd built a driveway for her. The two became good friends and he told her that he had his own construction company, but was limited on how much money he could make since he did not have his subcontractor license.  He suggested that Ethel get her license and create a company that would, in essence, absorb his business. In 2017, Mr. McGlasker dissolved his business and Ethel started Bennett Construction. All of Mr. McGlasker's employees joined the new company, and Mr. McGlasker stayed on as superintendent. "To be honest," Ethel said, "he was really the person who pushed me to take this leap of faith. He's been doing this for 50-some years, and once people learned that he was with Bennett Construction, everything fell into place."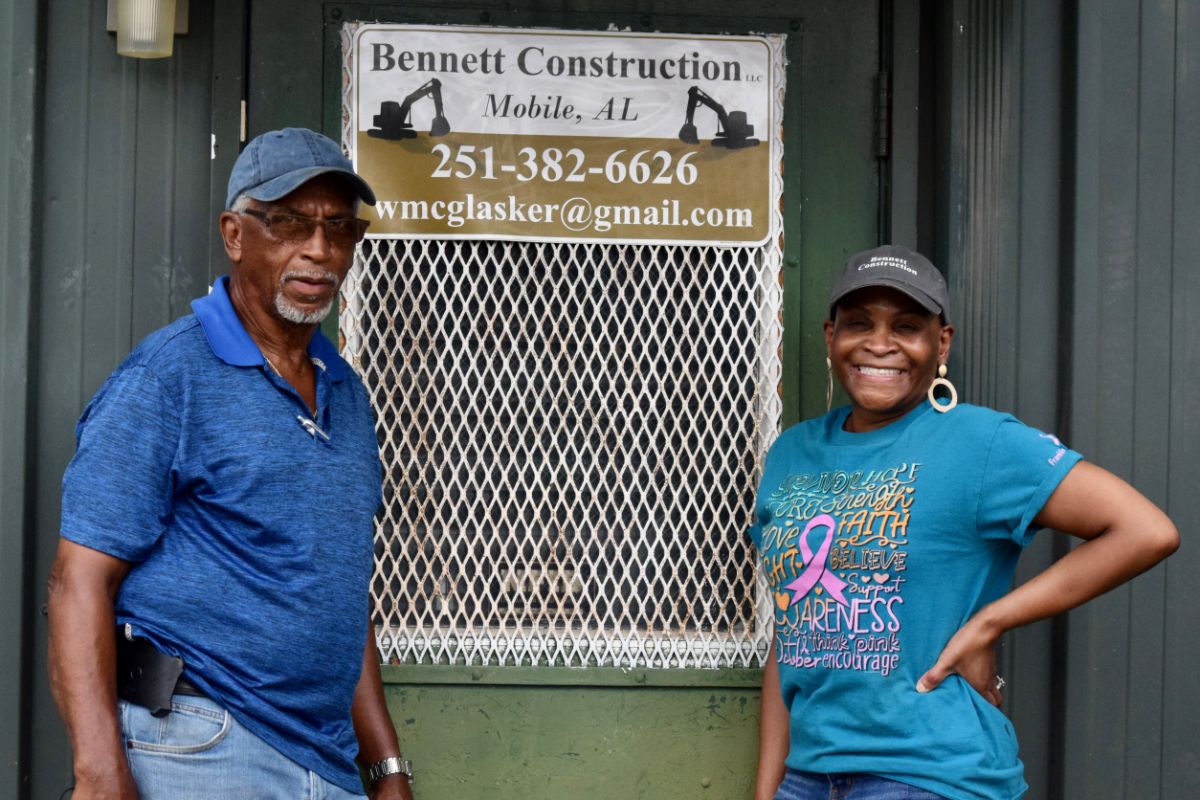 Ethel went back to college to work toward receiving a bachelor's degree in business management so that she'd be better equipped to manage her company. Meanwhile, in August 2019, Bennett Construction was awarded a $600,000 contract from Mobile Asphalt Company. That paved the way for Ethel to begin renting a building for her business and to land additional smaller contracts from the City of Mobile. Ethel's next goal is to be certified as a Disadvantaged Business Enterprise (DBE), which will allow her to bid on bigger Department of Transportation contracts that will give her more income. Her primary goal is to become a General Contractor so that she can have other subcontractors working under her. Once she achieves that, Bennett Construction will be able to bid for contracts worth millions of dollars.
One Step at a Time
In the short term, however, Ethel wanted to purchase a dump truck, which could help her make an additional $10,000 a week for her business, given that 100 million tons of dirt need to be removed from a construction site in Leroy, Alabama. That's what brought Ethel to TruFund, a Community Development Financial Institution (CDFI) that invests in small businesses in Alabama, Louisiana, Texas, and New York. CNote partners with CDFIs like TruFund in communities across the country, providing business coaching, funding loans, and empowering local entrepreneurs like Ethel.
Ethel was already familiar with TruFund. Last year, during the pandemic, she attended a virtual presentation hosted by the City of Mobile to learn more about the PPP process. She connected with TruFund, who was able to help her secure PPP funding for Bennett Construction's payroll.
Through a TruFund small business loan, Ethel was able to purchase the dump truck she so desperately wanted. "Ms. [Tamika] McNeal has been very helpful," she said. "There were several times I would get discouraged but she reminded me to take it one step at a time. When I thought about it like that, then it wasn't so bad."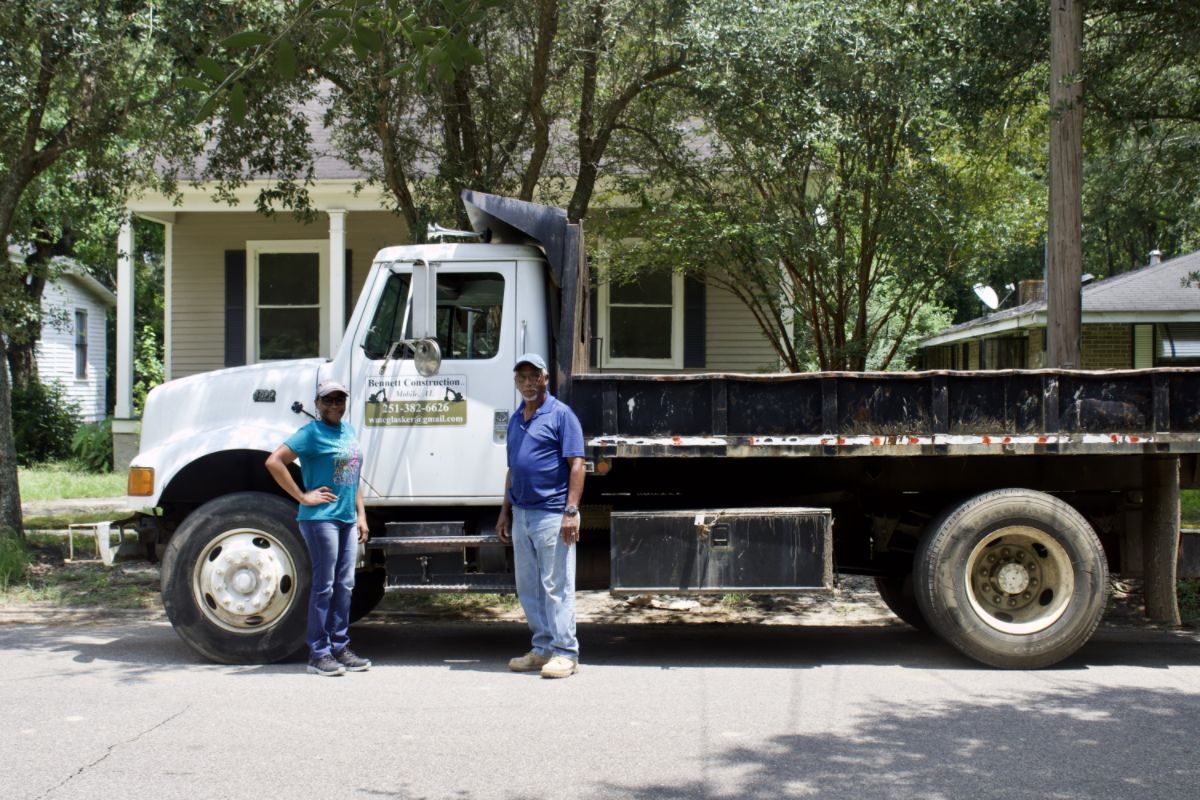 Incredibly, as Bennett Construction continues to grow and to land more and more work across both Mobile and Alabama, Ethel has continued to work her 8 a.m. to 5 p.m. job at Franklin Primary Health Center. She's thankful that her supervisors have been so flexible and understanding with the arrangement, as sometimes Ethel has to go to a job site for Bennett Construction during working hours; however, once she gets her DBE and primary contractor licenses, Ethel doesn't think she's going to be able to balance both jobs with her side hustle. Instead, she's readying herself to make Bennett Construction her main focus. Mr. McGlasker, who is 77, similarly has no plans of slowing down anytime soon. "He told me he's going to work until God tells him he can't work anymore," Ethel said. "That's what keeps him going, so I don't argue with him."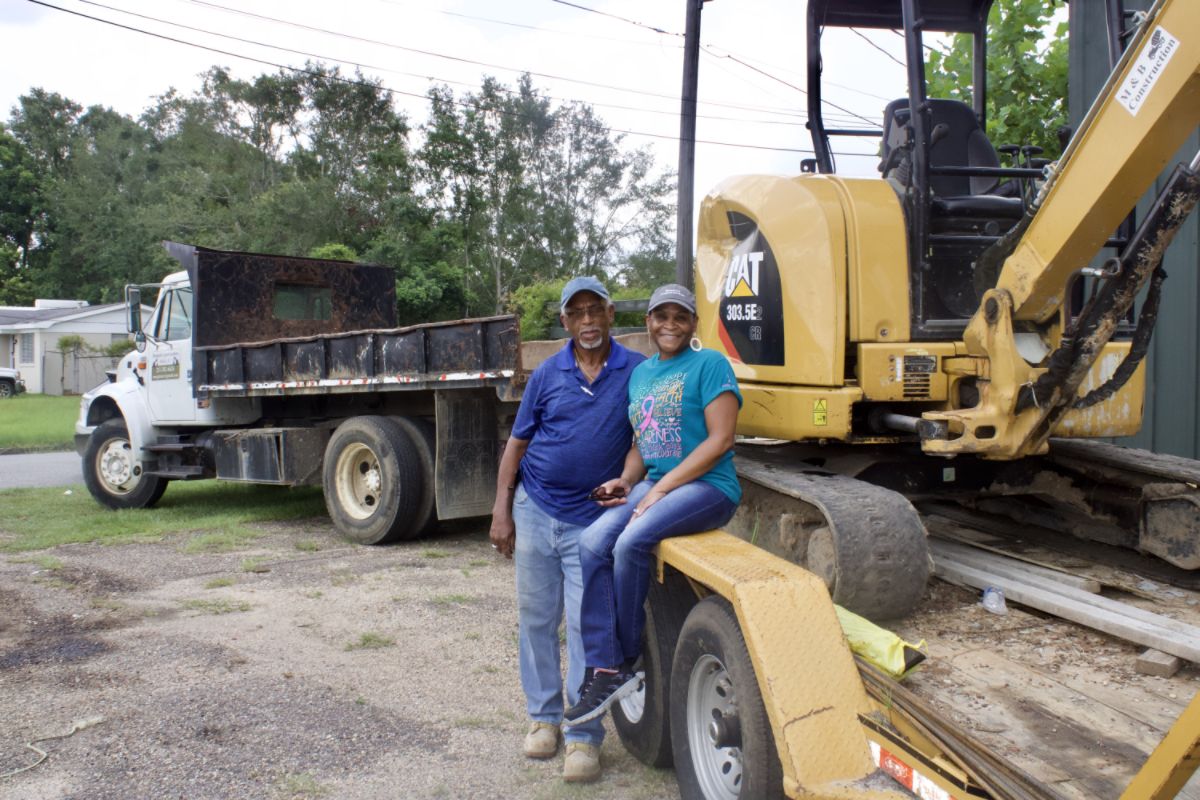 When asked whether or not she'd believe it if someone told her 20 years ago that she'd own and operate a construction company in 2021, Ethel laughed. Despite the fact that Bennett Construction wasn't in the cards for her until relatively recently, Ethel loves her company and the work that it produces. Unsurprisingly, it's getting the chance to see and hear about Bennett Construction's good work in and around Mobile that brings her the most joy, and she continues to be motivated by the knowledge that she's building a financial legacy for her family that will outlive her. "As a Black woman running a business," Ethel said, "there are a lot of opportunities for me. All I need to do is to get to those opportunities, and that's what my focus is on now. Getting those certifications, and getting those opportunities."
Learn More
TruFund – is a 501 (c) 3 certified Community Development Financial Institution (CDFI) headquartered in New York City with field offices in Alabama and Louisiana. TruFund tailors its financial and technical assistance to the unique needs of each site—from contractor mobilization lending in New York and Louisiana to rural Black Belt initiatives in Alabama.
CNote – Interested in helping create another story like Ethel's? CNote makes it easy to invest in great CDFIs like TruFund, helping you earn more while having a positive impact on businesses and communities across America.